Pest Control in Bryan, TX
Bryan is a great place to live, but it would be even better if we didn't have to deal with mosquitoes, roaches, fleas, ticks, fire ants and other unwanted bugs and critters. And, our hot, humid climate makes it tough to get rid of these pests and keep them from coming back. If you're fed up with these problems, contact ABC Home & Commercial Services. Our pros provide custom plans for effective pest control in Bryan.
Download Transcript
Effective Pest Control Solutions
The principles of integrated pest management (IPM) serve as the foundation for how we develop and implement our treatments. This philosophy is based on how your environment makes your home more or less vulnerable to pest activity. By making changes to your environment, you can help keep pests away.
Our work begins by directly addressing your existing pest problem. Once we are done, our skilled technicians identify potential breeding grounds so that your same issue doesn't reoccur. To prevent future invasions, our experts will take a close look around your property to seal any gaps or openings which can make it easier for these pests to enter and hang around in the first place.
The ABC Process
1. Contact ABC
When you contact us, we will schedule an inspection to get an understanding of the problem. In some cases, we can give you a quote over the phone.
2. Get An Estimate
If you have an inspection, we will send you a custom treatment plan and estimate afterward. Once we get your approval, we will schedule your treatment.
3. Treatment
We will come to your property and treat for pests in common hiding and nesting areas. Over time, you will start seeing less and less pest activity.
4. Prevention
Customers with our ongoing pest management services will receive periodic retreatments to prevent the return of the most common pests in our area.
Since no two pest problems are exactly the same, in many cases we will recommend an in-person appointment to help us develop a plan that will get better, long-term results. At this time, our inspector will:
Conduct a preliminary assessment of your property to look for possible entry points or any other unique features of your home which could make it more vulnerable to pest activity
Ask you questions to learn more about the nature and extent of your problem
Answer any questions you might have about our service offerings
After this appointment, we will send you a free, no-obligation estimate for the treatment options that will be the most effective for long-term results. Your first treatment visit can be scheduled as soon as you approve the estimate.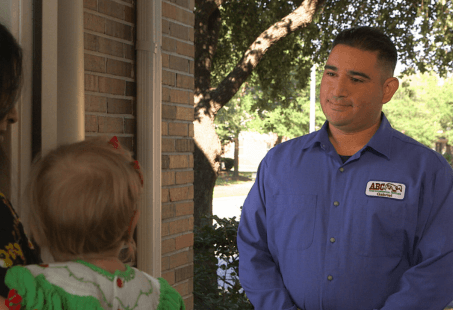 Get Started
We offer a full range of pest control services.
Our customers here in Bryan tell us that the main reason they return is that our licensed specialists provide both high-quality and friendly service. Better yet, you can feel safe with our employees on your property, because part of the ABC hiring process involves conducting background checks and drug testing on all technicians. Last, but certainly not least, ABC treats your home as we would our own.
Frequently Asked Questions
How long will it take you to get here?
Some pest problems require immediate attention. That's why we make every effort to get an inspector to your property as soon as possible to provide you with a recommended plan of action. In some cases, we can even provide you with an estimate over the phone for our most popular service, including treatment for spiders, mosquitoes, ants and scorpions.
If an in-person appointment is necessary to give you an accurate estimate to tackle your pest problem, we do our best to make that happen in a few business days.
What are the chances you'll need to come back?
Pests get their name for a reason: these creatures are incredibly difficult to manage on your own. In many cases, pests can and do return. In addition, treatment solutions are time-limited, so they will become less effective over time. To make matters worse, pest problems can get better and worse, depending on the season.
For all of these reasons, ABC now offers year-round service. Customers that take advantage of this offering get a special program of service calls to address the most common pests here in Bryan: spiders, roaches, ants and scorpions.
Must I be home for every ABC service call?
Being at home for every service call can be challenging. That's why ABC also offers outside-only pest control services. While you are away, our technicians will treat the exterior of your home for pests, so that you can have peace of mine that when you return, you will see fewer of these pesky crawling insects.
Get Started
We offer a full range of pest control services.
Additional Pest Control Service Areas Around Bryan, TX
ABC serves many surrounding communities, including, but not limited to:
What Our Customers Are Saying
"ABC Home & Commercial Services did an outstanding job of redesigning, replacing and trimming many of the trees and shrubs on our residential property. They also mulched all of our flower beds, added all new bed border around the trees/beds and then added grass sod in several areas that needed it. Brandon and Michael were always very cordial and professional in handing their day to day business. My wife and I were pleased with the quality of their work. We couldn't have expected more we were pleased with the overall quality of their work. Overall they represented their company in a very positive manner."
"I have had ABC for more than a year now. Definitely glad i switched. All issues I have get handled. I use to stress about pest control as a property manager but, not anymore. A shout out to Jeremy, our technician. Does a great job. Courteous, well informed, professional, and he cares. Thanks for taking care of my tenants."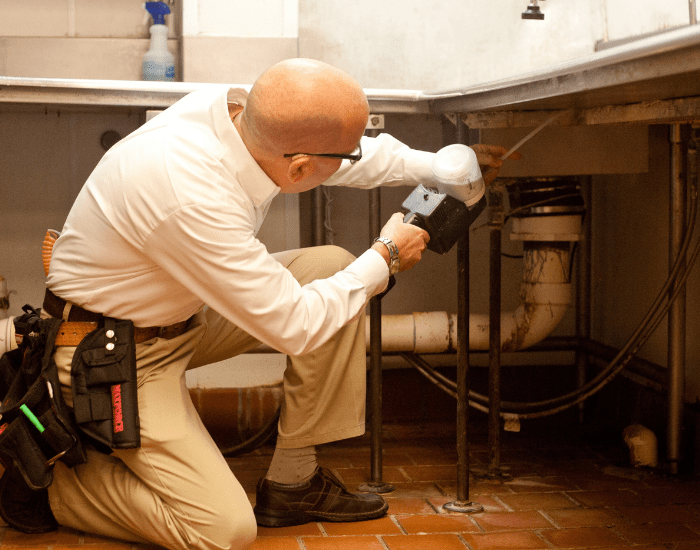 Need Pest Control For Your Business?
We understand that businesses have different needs than residences. That's why we have specially trained technicians who can service your business.
ABC's Complete List of Home Services in Bryan, TX
Why deal with multiple service providers when ABC can do it all?