Power Washing in Corpus Christi, TX
Corpus Christi residents know what build up from our beautiful Gulf coast environment can do to our homes. Let the elements go for too long, and it can make your entire property look dull and dingy. Power washing is the solution! It's one of the most effective–and least expensive–ways to give your property a quick facelift. When it comes to power washing, Corpus Christi trusts the experienced professionals at ABC Home & Commercial Services to get the job done right.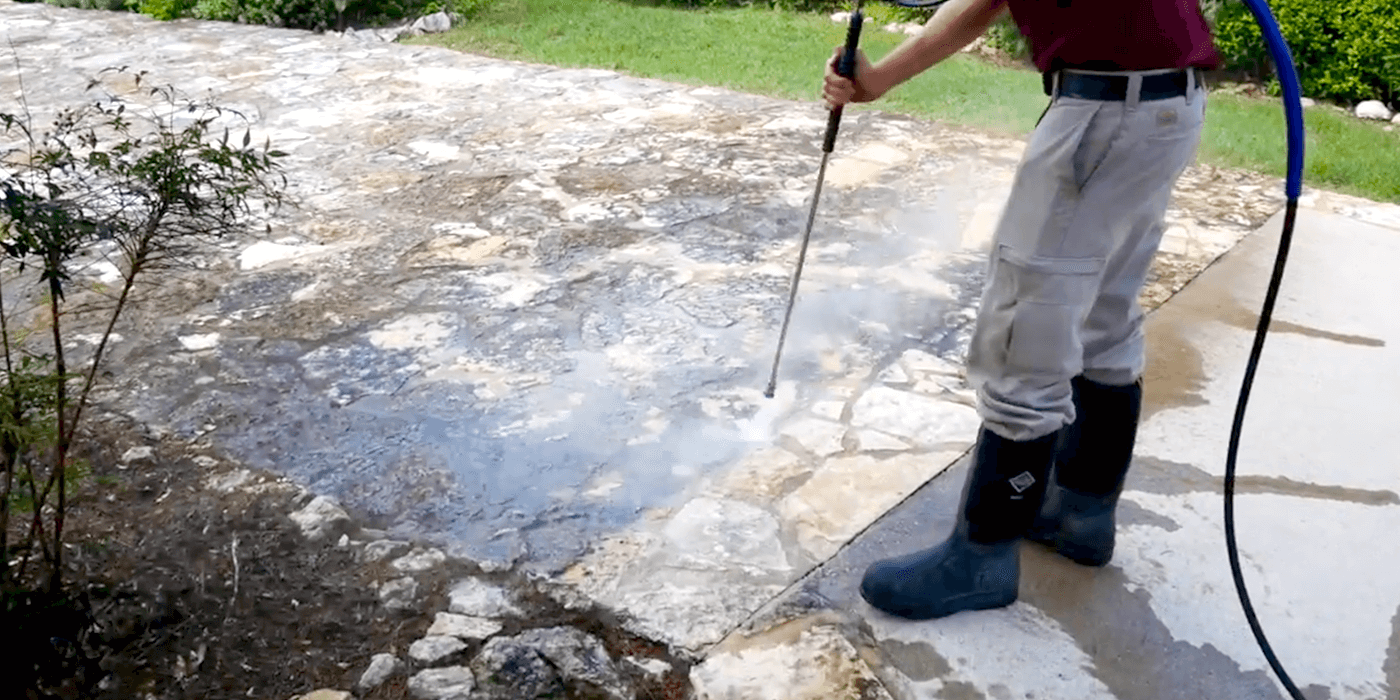 Homeowners who tackle this job on their own quickly see that the power washers they rent from home improvement stores are designed for residential purposes. ABC's power washing customers benefit from the use of commercially-designed power washers, which are more powerful and can better remove mildew and other stubborn debris. These devices also offer more functionality, such as the ability to use both hot and cold water to address different types and degrees of build-up and stains.
The most rewarding thing about having your property power washed is the difference it makes! Take a look at these before and after photos to see the results of our professional equipment:
Before

After

The ABC Process
1. Contact ABC
When you contact us, we will learn more about what you'd like done and your property.
2. Get An Estimate
We'll provide you with an estimate for power washing. We can usually give this to you over the phone.
3. Perform Services
Our pros will get your surfaces sparkling clean.
4. Follow-Up
After each visit, we will update you on the work we performed and provide any helpful follow-up instructions or other guidance.
One benefit of our warm climate here in Texas is that you can benefit from power washing all year long. ABC can even perform power washing during the rain, as long as lightning isn't present, so that we can keep our employees out of harm's way.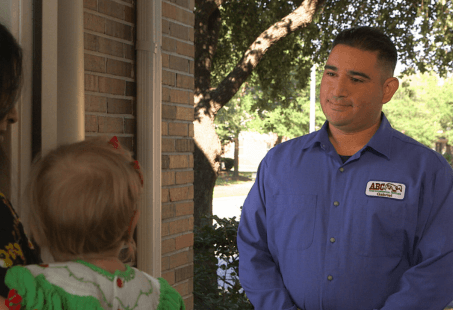 Get Started
We offer a full range of exterior cleaning services.
Corpus Christi homeowners have trust ABC for their pest control, lawn care, AC needs, plumbing repairs, and a variety of other services. Our customers tell us that in addition to providing the highest-quality home services in the business, they appreciate that we thoroughly background check and drug test all employees. You can rest easy knowing that the job will get done right and that our employees will treat your home as they would their own.
Frequently Asked Questions
Are there free estimates?
Yes! When you contact ABC for power washing services, we will send an inspector to your home to find out more about what you have in mind. Next, ABC will send you a free, no-obligation quote. Once our estimate is approved, we can schedule a convenient time for the power washing to begin.
How often should I have my house power washed?
Most Corpus Christi homeowners benefit from power washing once every two years. The interval between power washing appointments can vary, depending on a number of factors. For instance, a dense tree canopy and the resulting pollen can lead to discoloration more quickly on the surfaces of your property.
Nearby construction, winds and severe weather can also cause more discoloration, which can show up on your pathways and concrete surfaces. If your home has a lighter exterior color, it can often benefit from an annual power washing service to remove mildew and other residue.
Will power washing damage my siding, wood or plants?
When an ABC inspector visits your home to gather information to provide you with an estimate, he or she will assess the condition of your home's exterior and make notes about any areas that might be vulnerable to problems associated with high pressure. Our power washing specialists have experience working with all types of surfaces — including siding, brick, vinyl, wood, concrete, stone and aluminum. The techniques and products used will vary based on material and the level of grime and dirt.
In addition, please point out any areas of your home that require special attention or care. ABC's power washing specialists will perform the service carefully to minimize any impact on your landscaping and grounds.
Are the products that ABC uses for power washing environmentally-friendly?
All of the products we use on your property are designed for residential purposes. Our decades of experience in the industry, allow us to select only products which balance effectiveness with a concern for the well-being of your family, pets and the environment. We are happy to address any concerns homeowners might have about the power washing products we use. Don't hesitate to ask us questions about the process and our product choices.
Do I need to be home while my home is being power washed?
Most frequently, our power washing specialists can perform your power washing service while you are not at home. We just ask that you provide us with instructions on how to access your yard, if needed, and to keep any pets safely indoors. We also recommend that homeowners double check that doors and windows are tightly sealed to keep any moisture out.
Will power washing help remove oil stains on my driveway or in my garage?
We recommend homeowners attempt to clean these types of stains on their own using soapy water and a firm bristle brush.This method is generally more effective than having a surface power washed, although some stains may respond to the combination of high pressure and heat. If you have a particular area in mind, ask our inspector for guidance during your free consultation.
Get Started
We offer a full range of exterior cleaning services.
More Exterior Cleaning Services In Corpus Christi
What Our Customers Are Saying
"These guys are 5 stars for a reason, had issues with my ac today late Saturday afternoon. They sent kyle to diagnose my ac and he was really knowledgeable and explained everything thoroughly! Thank you abc!! Will definitely continue business with them when needed!"
"I was pleased with the service, issue with A/C was corrected. The technician was personable, he answered all my questions. Timeliness was good, I will use them again"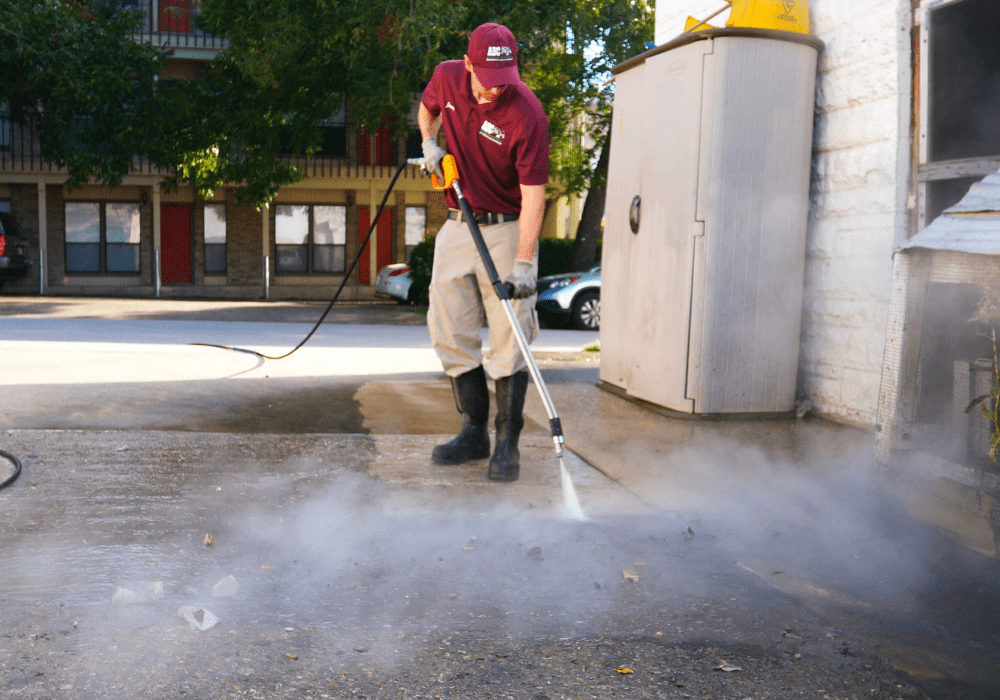 Need Exterior Cleaning Services For Your Business?
Make a good first impression on your customers with a clean storefront. We offer gutter cleaning, window washing and pressure washing for businesses.
ABC's Complete List of Home Services in Corpus Christi
Why deal with multiple service providers when ABC can do it all?