AC Repair in Corpus Christi, TX
The wind, sand and salt that are part of the natural environment in a coastal area can do serious damage to your home's cooling and heating systems. Keeping your living spaces cool is not only important for the comfort level of you and your guests, but also represents the biggest part of your utility bill. When it comes to AC repair, Corpus Christi homeowners rely on the experts at ABC Home & Commercial Services for any repairs, installing a new unit, performing preventative maintenance, helping make your unit more energy efficient and delivering filter replacements.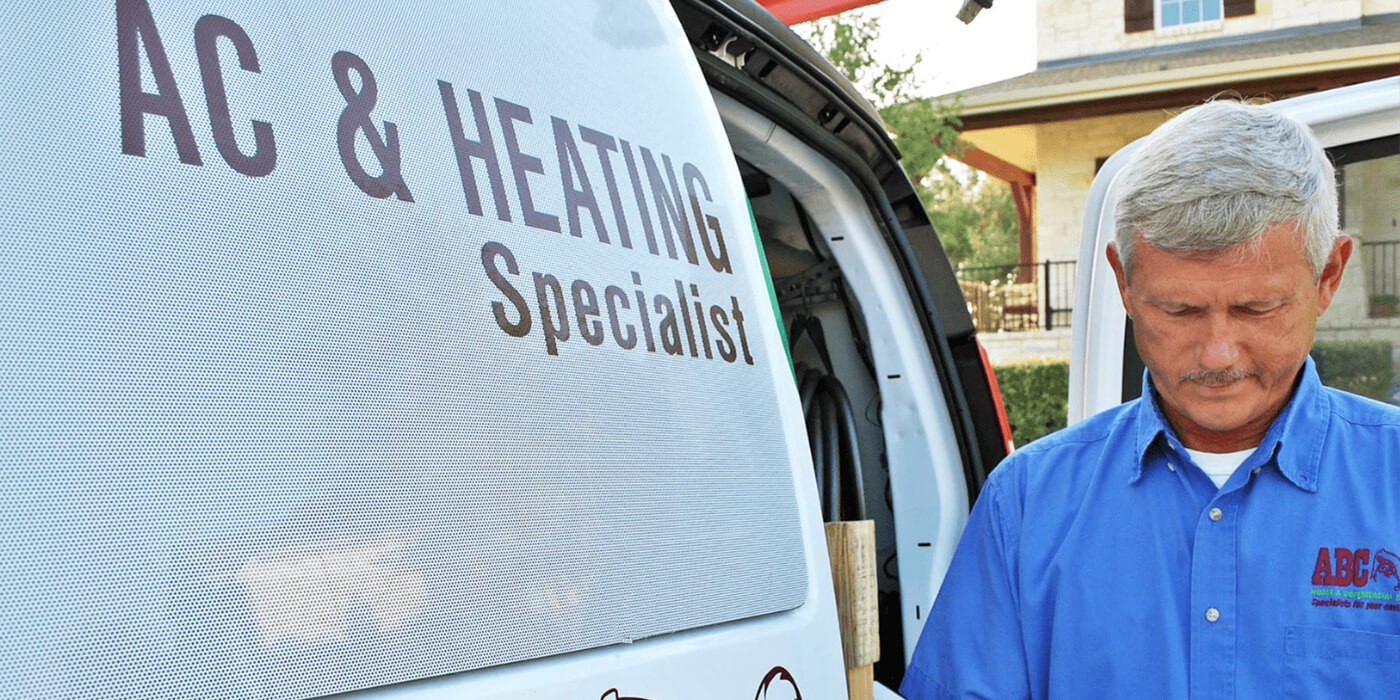 Comprehensive Air Conditioning & Heating Services
24/7 Emergency Service Available
When your air conditioner is not working, we understand that you don't want to wait days for repairs. That's why ABC performs 24/7 repairs on air conditioners. Just give us a call at (361) 884-8214 and we'll take care of your problem as soon as possible.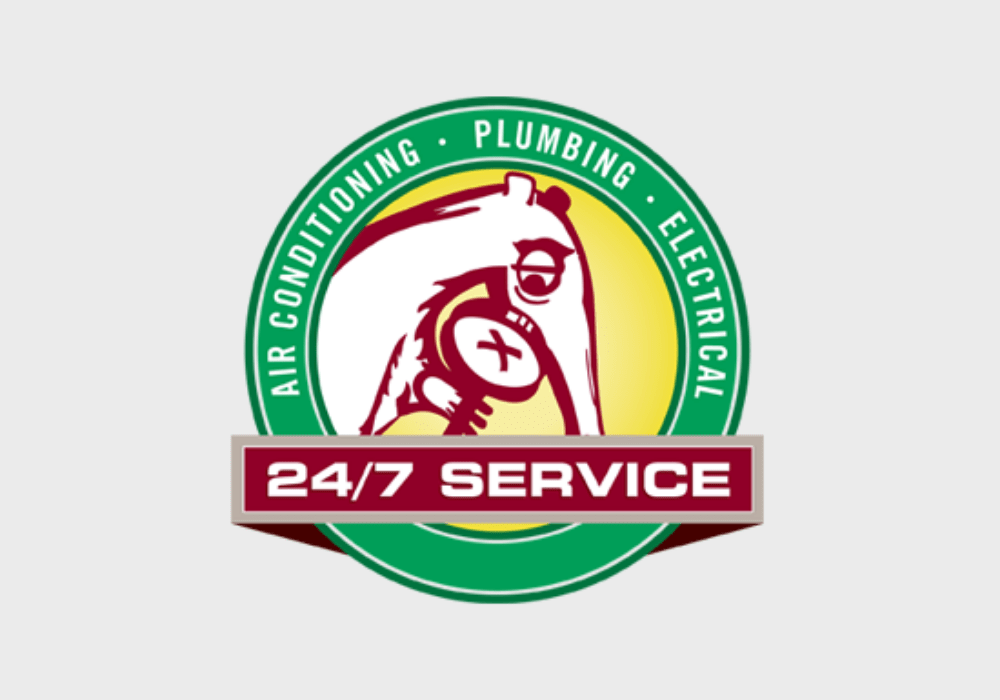 The ABC Process
1. Contact ABC
When you contact us, we will schedule a service call to evaluate the problem. For emergencies, we will send a pro to your home as soon as possible.
2. Get An Estimate
We'll provide you with an estimate for all needed services. Once we get your approval, our pros will get right to work.
3. Service
We will work quickly to perform the desired services. At the end of your service call, we'll update you on what we did and any other needed follow-up.
4. Ongoing Maintenance
Customers who sign up for our Advantage Maintenance Plan receive two tune-ups a year and peace of mind that their system is working as it should.
Being proactive about maintenance to your AC unit sounds like a great idea, but homeowners may not know what should be done nor have the time to do it themselves. Our Advantage Maintenance Plan members can count on ABC to take care of these important and regular tasks.
As a part of our Plan, ABC will visit your home twice a year. During these appointments, our experienced technicians will perform diagnostic tests, check refrigerant levels and take care of manufacturer-recommended maintenance. After each service, Plan members receive a written report about exactly what was done and an assessment of the overall health of your unit. You'll also receive tips to help ensure the long life of your air conditioner and heater.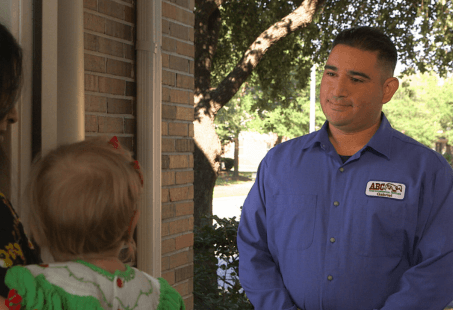 Get Started
We offer a full range of AC & heating services.
ABC's Warranties & Guarantees
ABC is proud to offer an unconditional guarantee on services for the first full year following installation. Your satisfaction is our priority. We will work to resolve any concern you may have or refund your investment and remove the system we've installed.
No Surprise Guarantee
In addition, ABC offers our customers a "no surprise guarantee." No surprises on your bill once our work has begun. You'll pay the price you've been quoted and nothing more.
Comfort Guarantee
If your system fails during the first year after installation, we promise to have your home comfortably back to normal within 24 hours, or we'll pay for your hotel stay.
Guarantee on Key Components
Compressor
If your outside compressor unit fails within 5 years of our installation date, we'll replace it at no charge to you.
Furnace
If the furnace/heat exchanger fails within 10 years of our installation, we will replace the entire furnace at no charge to you.
Lifetime Duct Guarantee
All ABC installed ductwork (both materials and workmanship) is guaranteed for as long as you own the home.
Frequently Asked Questions
Why should I trust ABC for my heating & air conditioning system needs?
Lennox, the best heating and air conditioning name in the business, has over 7,000 dealers in the US, and only 45 of them received their coveted Circle of Excellence award this year. This award is given to their top performing dealers with elite service, elite quality, and consistent growth. ABC is the only contractor in Corpus Christi to receive this award, and for the third year in a row. Now that's a BIG deal!
To celebrate this BIG deal and say thanks, we're giving everyone a big deal too! Call for great year round AC system rebates, deals and options from ABC and Lennox.
What AC & heating services does ABC provide?
As a licensed, full-service air conditioning and heating service provider, ABC can fix any problem you might be having with your unit.
Some of the most common reasons homeowners request our help is for:
ABC's experienced technicians can make repairs on any make, model or brand of air conditioner or heater. Our pros can quickly assess what is wrong and work to get your unit working properly again. If you are struggling with the decision about whether to repair your unit or have it replaced, ABC can provide you with an honest recommendation to help you make the decision and avoid any costly repairs in the future.
If you are considering replacing your unit, our Comfort Advisors can give you a free, no-obligation estimate, based on your needs, desired features and budget. Our Comfort Advisors will take a look at your home, its size and existing ductwork to help determine the best unit for you.
Similar to any significant investment, putting the effort into maintaining your air conditioner and heater will save you time and money in the long run. That's why ABC offers an Advantage Maintenance Plan. Our Plan members receive two visits each year so that our technicians can perform diagnostic tests and system tune-ups.
Since heating and cooling represents the largest part of your energy bill, improving your unit's energy efficiency can result in significant savings over time. ABC can help lower your utility bill by adding attic insulation, making sure your ductwork is installed and sized correctly, adding solar film to your windows and making indoor air quality improvements. Your ABC inspector can supply you with a free estimate and identify any rebates that can help defray your costs.
One of the challenging aspects of owning a home is keeping up with all of the things you need to do to keep everything running smoothly. Changing your air filter is probably one of these regular to-dos that is easy to neglect. Your air conditioner's filter keeps dust and dirt out of your home, thereby improving your indoor air quality. Take advantage of the FilterFetch service to automate the delivery of your filters and to take the guesswork out of which filter you need for your home.
What happens when you provide me with an estimate for AC installation?
If you reach out to us for an estimate on installing a new AC unit, we will send one of our Comfort Advisors to meet with you at your home. During this meeting, the ABC specialist will take a look at your current unit, ask you questions about desired features and options, learn more about your current heating and cooling costs and find out your budget. You can also ask the Comfort Advisor any questions you might have about installation services.
You will receive an estimate from ABC, which will take into account all the information you have provided, plus any possible federal or local incentives or rebates. We may also suggest other energy improvements which can help you save money, including weatherization, adding insulation in your attic or other measures.
How will I know if I should install a new unit?
Newer units are much more energy efficient and can save up to 40% on your home cooling costs. You can count on ABC to give you an honest evaluation of your current unit and the pros and cons of replacement.
If you do decide to replace your air conditioner, ABC's expert installers can get your new system up and running quickly and correctly. ABC stands behind all our repairs and installation. If you aren't happy, we'll come back to make things right.
Do you work on heaters?
While our winters are generally short here in Corpus Christi, ABC's specialists are skilled and available to assist with any problems with your heater. One service we recommend to keep heaters working their best is to perform an annual tune-up before the start of the season.
Why should I choose ABC for my cooling and heating services?
ABC's cooling and heating pros are available anytime, day or night, to take care of any cooling or heating problem you might be having. Not only are our Comfort Advisors highly skilled, but also they are licensed. ABC's employees undergo extensive background checks and drug testing. Most importantly, ABC treats your home and you would your own.
In addition to taking the time to hire only the most dependable and skilled cooling and heating experts, ABC also stands by the work we do. If, for any reason, you aren't satisfied with our installation or repair services, we will return within one year of your service to correct the problem you are having.
Get Started
We offer a full range of air conditioning & heating services.
What Our Customers Are Saying
"These guys are 5 stars for a reason, had issues with my ac today late Saturday afternoon. They sent kyle to diagnose my ac and he was really knowledgeable and explained everything thoroughly! Thank you abc!! Will definitely continue business with them when needed!"
"Fan motor on HVAC would not shut off. Called several companies that said they offered 24 hour service, but ABC came out on Saturday afternoon and shut if off and then took care of the repair once they got the part the following Wednesday. Technician Rollie was on time and made the repair. I have used ABC before for a plumbing emergency and now HVAV. I highly recommend them."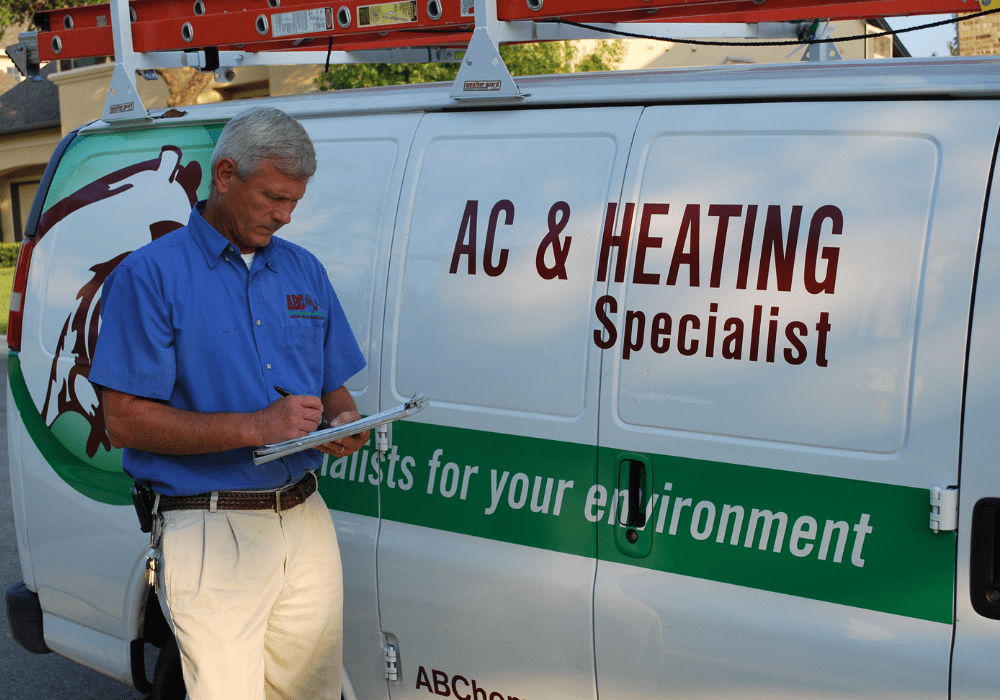 Need Heating & Cooling Services For Your Business?
We understand that businesses have different needs than residences. That's why we have specially trained technicians who can service your business.
ABC's Complete List of Home Services in Corpus Christi
Why deal with multiple service providers when ABC can do it all?