Tree Services & Tree Trimming in Corpus Christi, TX
From palm trees to live oaks, having trees on your property adds value to your home and beauty to your landscape while helping to cut cooling costs. However, trees require specialized care and can cause damage to your home if not properly maintained. When it comes to tree service, Corpus Christi homeowners rely on ABC Home & Commercial Services for trimming, fertilization and post-storm debris removal.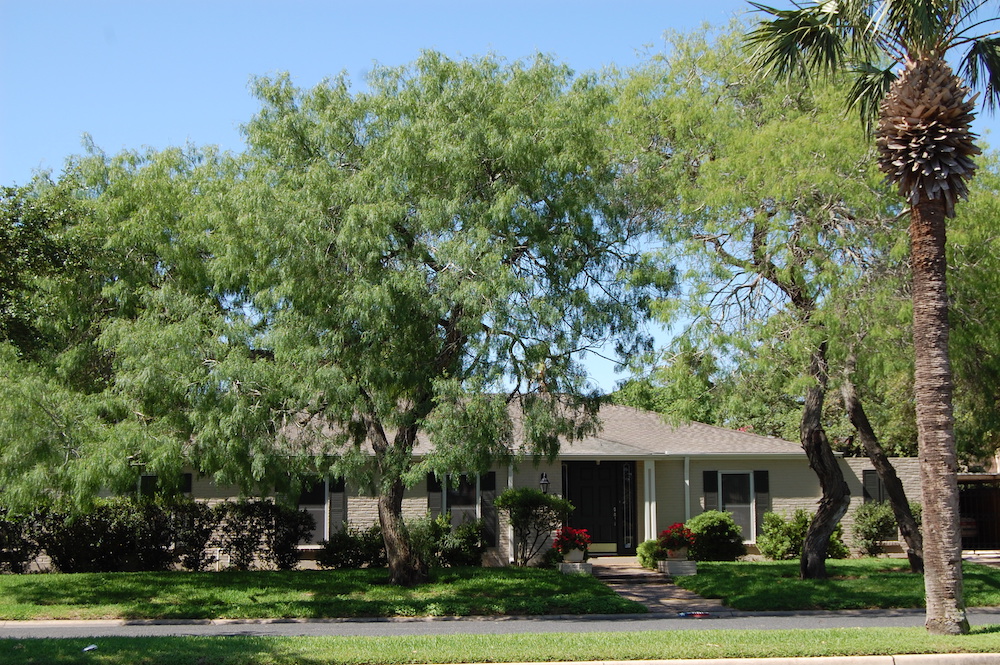 ABC's highly trained and experienced tree specialists can assist with any issues you are having with trees on your property.
Trees require specialized care that is often best performed by experienced professionals with a deep understanding of how local conditions impact tree growth and health. ABC's certified arborists will assess the health of your trees and suggest a plan to address a range of issues, including:
Disease Remediation
Your trees may be in trouble because of a number of different conditions, and the appropriate plan of action starts with diagnosing the problem. Depending on the nature and severity of the issue, we may recommend foliar sprays, trunk injections or other treatment methods.
Some of the more common tree diseases in our area include:
oak wilt,
hypoxylon canker,
root rot,
bacterial leaf scorch,
pest infestations,
blight and
drought damage.
With the help of our certified arborists, we can get your trees back to optimal health.
Insect and Pest Removal
You may be concerned when you see insects on your trees, and with good reason! This may be negatively impacting your tree health. Your ABC arborist can conduct an evaluation to determine what type of intervention might be necessary, which can include insecticide sprays or trunk injections.
Tree Fertilization
Fortifying your trees with additional nutrients can help promote healthy root development and protect against disease. Our certified arborists can look for signs that your trees may benefit from fertilization, then recommend a schedule of visits to keep your trees healthy year-round.
Tree Trimming
There are many reasons why homeowners may need to have tree branches pruned, including:
removing damaged or diseased branches
preventing limbs from falling and damaging your property and belongings or putting your family at risk
allowing for adequate roof and structure clearance to prevent pests from having an easy pathway to get inside your home and
allowing more sunlight into the canopy of the tree
It's no surprise that tree trimming is no easy task, especially if you have towering oak trees with a dense network of limbs. ABC's certified arborists can trim tree branches safely and in a way that keeps your trees healthy. In addition, we can remove deadwood or moss balls, and clear any branches or twigs that may have fallen on your roof during a storm. We can even recommend and make repairs on your property if damage from tree limbs after a storm has been extensive.
Over time, trees on your property may die or become diseased. There are sometimes situations in which a homeowner may be faced with a difficult decision to remove an otherwise healthy tree because it is growing too close to utility lines or your home's foundation, or you need to make room for expanding your home's footprint because of a remodel. In all of these situations, a professional is best equipped to advise you on whether a tree should be removed and can handle the job in a way that is safe and takes into account any unique circumstances or features of your property.
When we walk around our trees, the surrounding soil may become compacted. As time goes on, this tightly packed soil can make it difficult for trees to properly receive water and nutrients. With ABC's tree air excavation service, we loosen up compacted soil and make sure your trees are getting everything they need to grow healthy and strong.
The ABC Process
Contact ABC
We'll learn what you need over the phone or during an in-person meeting at your home. Usually, we can schedule an appointment in a few business days.
Get an Estimate
We'll provide you with an estimate based on your goals and our recommended set of services. Once we get your approval, we will get you on the schedule.
Service
Our trained specialists perform all agreed-upon services. When we're done, we will clean up any debris to keep your yard neat and looking great.
Follow-Up
Depending on what services we performed on your property, we'll provide you with an update or recommend additional follow-up or ongoing services.
In addition to receiving extensive in-house training, ABC's tree care team members hold the following professional accreditations:
Choosing a company with such extensive experience helps ensure your trees will be cared for by individuals with the most up-to-date and accurate information on both native and non-native species. In addition to these accreditations, ABC is a proud member of both the International Society of Arboriculture (ISA) and the Tree Care Industry Association (TCIA).
Homeowners in Corpus Christi trust ABC for a wide range of home services. In addition to having arborists and entomologists on staff, ABC conducts extensive background checks and drug testing for all employees. Our customers feel safe knowing that our prompt, friendly and reliable tree care experts treat your property as their own.
Frequently Asked Questions
What are some warning signs that might indicate an issue with my trees?
Unfortunately, long-term damage may have already occurred by the time most homeowners suspect something might be wrong with their trees. If you are concerned about a tree on your property, don't put off contacting a trusted tree care expert to help advise you on the best next steps.
Warning signs of an unhealthy tree include:
Brown, wilted or discolored leaves
Spots or holes on growths or leaves
Dead branches
Slowed growth
Sudden or excessive leaf loss
Rotting and decay
Pest infestations and related damage
What can I do to protect the trees on my property?
Homeowners value their trees, but are often unsure what they can do to protect this important part of their landscape.
Here are some steps you can take to help care for your trees:
Avoid planting trees right next to your home's foundation. Homeowners are often unable to predict how a tree's root structure will develop over time. Tree roots too close to your living structure can penetrate your foundation or cause instability.
Remove dead trees close to your house. Over time, a dead tree will shed smaller twigs and then larger branches. Eventually, the trunk can fall unless it is removed.
Protect root systems from damage by preventing soil compaction. Tree roots provide stability and nourishment. Roots can be cut during digging and aeration of your lawn. The pressure from cars and even heavy foot traffic can harm your trees.
Should I mulch the area around my trees?
Mulch can be beneficial to your tree's health by:
Providing a buffer against extreme temperatures
Retaining water to keep roots nourished
Discouraging weeds, which drain needed moisture and nutrients from your soil
Preventing soil compaction
Reducing damage to roots that might occur when mowing your lawn
To get the best benefit from mulch:
Remove grass in a three to ten-foot radius of your tree, depending on the size of your tree
Add a two to four-inch layer of natural mulch, such as wood chips or pieces of bark
Carefully spread mulch so that you don't accidentally cut or damage any roots.
What does oak wilt service look like at my home?
More Lawn Service Solutions In Corpus Christi
What Our Customers Are Saying
"These guys are 5 stars for a reason, had issues with my ac today late Saturday afternoon. They sent kyle to diagnose my ac and he was really knowledgeable and explained everything thoroughly! Thank you abc!! Will definitely continue business with them when needed!"
"We like that ABC gives us one place to call for most of our home needs. Their techs are always on-time, professional and efficient."
ABC's Complete List of Home Services in Corpus Christi
Why deal with multiple service providers when ABC can do it all?