Drinking Water Systems in Corpus Christi, TX
Ordinary tap water can contain dissolved metals, including lead, aluminum, ammonia, and other hard to remove impurities. Your water may also have nitrates, chlorine and mineral salts, sulfates, mercury, asbestos, pesticides and even arsenic. That's why ABC Home & Commercial Services installs water filtration systems in the Corpus Christi area. With ABC's help, you can feel confident that your drinking water is clean and clear.
A drinking water filtration system is more convenient and less costly than buying bottled water. Not only will your water be cleaner and better tasting, the system actually pays for itself over time and makes a difference you will notice every day. Saving all that plastic from purchasing bottled water is better for our planet, too! Let our experienced professionals help you determine the filtration system that best suits your family's needs.
The ABC Process
1. Contact ABC
When you contact us, we will schedule an inspection to get an understanding of what you need. In some cases, we can give you a quote over the phone.
2. Get An Estimate
We'll provide you with an estimate for all needed services. Once we get your approval, we'll get you on the schedule for your service call.
3. Perform Service
Once we arrive at your home, we will work quickly to perform the desired services.
4. Follow-Up
We will update you on the work we performed and provide any helpful follow-up instructions or other guidance.
We offer a variety of reverse osmosis water systems suitable to you home needs. A R/O drinking water system uses a thorough process that pushes water through multiple filters and sheds dissolved solids along the way. These systems will help improve your water, leaving bad odors and taste behind while preserving your faucet's water pressure.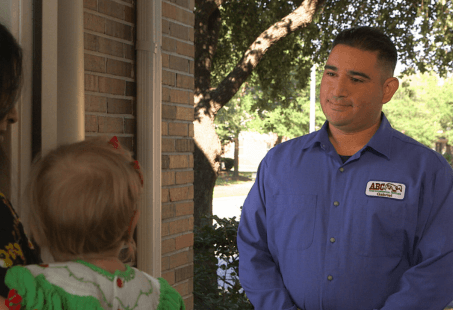 Get Started
We offer a full range of water quality services.
Our water quality specialists can talk to you about how often the filters need to be changed based on your home's water and your family's water usage. We do offer service program options that include routine filter replacements.
Frequently Asked Questions
My water tastes fine. Why would I need a drinking water system?
Ordinary tap water can contain dissolved metals, such as iron or lead. Your tap water might contain chlorine, nitrates and mineral salts. It could have sulfates, mercury, asbestos or even arsenic in it. ABC's reverse osmosis water treatment system reduces more than 95% of dissolved solids, including many harmful contaminants.
Get Started
We offer a full range of water quality services.
More Water Quality Services In Corpus Christi
What Our Customers Are Saying
"Kyle was a professional and amazing technician. Showed me all the issues and readings. Will go with ABC just because of Kyles services"
"Always review great service, repair men are always professional and knowledgeable and always able to get the job done in a timely manner"
My AC Line Is Frozen: What Happened?
Have you noticed that your air conditioner doesn't seem to have the same cooling power it used to? It's a good idea to give your AC system a once-over as soon as possible to try to identif...
Need Water Quality Services For Your Business?
The quality of the water at your business matters. We can advise you on what water filtration system will be best for you and your customers.
ABC's Complete List of Home Services in Corpus Christi
Why deal with multiple service providers when ABC can do it all?