Pest Control in Palm Coast, FL
With over 70 miles of canals and warm weather nearly all year long, Palm Coast is a near-perfect place to be. Unfortunately, our humid weather and close proximity to water also makes our city ideal for all different types of bugs and animals that can invade our homes and yards. If you need pest control in Palm Coast, you can rely on ABC Home & Commercial Services. Our pros implement effective solutions so your life can return to normal.
Effective Pest Control Solutions
When you get in touch with ABC regarding a pest problem, we will get you on our calendar for an inspection at the earliest available opportunity. During this in-person meeting, you can expect your pest control professional to:
Ask you questions about the pest activity you've been noticing around your property to get a better understanding of the extent of the infestation
Conduct an initial examination of your property to locate pest hiding spots, potential entry points and any pest-related damage
When necessary, identify the species of pest on your property
Take note of any structural issues or environmental factors that may make your property more vulnerable to a pest infestation
Address your questions and concerns regarding the pests and our treatment options
At the end of our inspection, we will provide you with an estimate for our recommended next steps. Once we have received your approval we will put your first treatment call on our calendar.
The ABC Process
1. Contact ABC
When you contact us, we will schedule an inspection to get an understanding of the problem. In some cases, we can give you a quote over the phone.
2. Get An Estimate
If you have an inspection, we will send you a custom treatment plan and estimate afterward. Once we get your approval, we will schedule your treatment.
3. Treatment
We will come to your property and treat for pests in common hiding and nesting areas. Over time, you will start seeing less and less pest activity.
4. Prevention
Customers with our ongoing pest management services will receive periodic retreatments to prevent the return of the most common pests in our area.
ABC is a family-run business that has been providing homeowners with pest control across Florida, Texas and Oklahoma for generations. One of our philosophies is that we treat our customers' homes as if they were our own, so you can feel confident knowing that our friendly specialists will be careful around your property and belongings.
Additionally, we strive to hire the best of the best which is why we have a stringent hiring process in place which includes a drug test and a criminal background check. Before performing service calls, all of our technicians go through an extensive in-house training program to supplement their licensing, so we can provide you with the best service possible.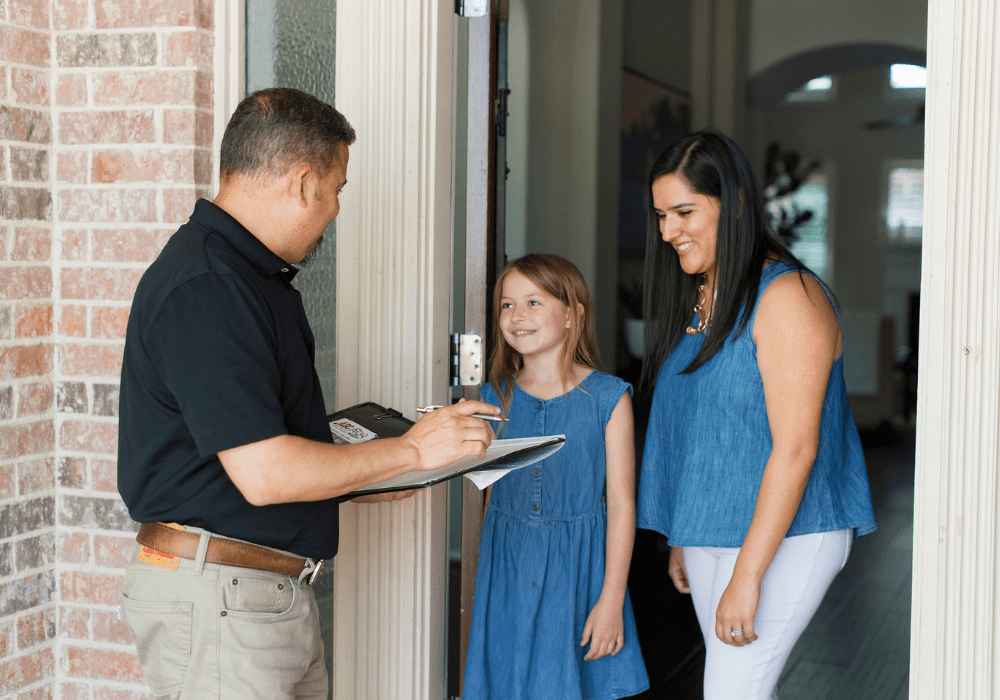 Get Started
We offer a full range of pest control services.
Frequently Asked Questions
What is the impact of your products on my family, pets and the environment?
ABC is a family-run business and all of the products we use on your property are chosen with your family members and pets in mind. In addition, we only select products that are specifically manufactured for residential use. During your initial inspection, your specialist will determine the lowest concentration of chemicals to use that will make our treatments effective and low-impact. We also believe in transparency, so your specialist would be happy to address any of your questions or concerns regarding the products we use or our treatment plans and provide you with any additional information to put your mind at ease.
How often will you come to my home for treatments?
Each pest problem is unique and every treatment plan we create is tailored to that specific pest problem. Therefore, there is no standard answer to this question. During your initial inspection, your specialist will determine how many treatments will be needed to effectively manage the pest problem on your property.
While some issues can be resolved in just a few visits, we typically recommend ongoing treatment calls to ensure the pest population on your property remains low. In addition, some of our treatments are only effective for a certain period of time, so we may recommend ongoing service calls to prevent future infestations.
Does ABC provide pest control services to businesses in Palm Coast?
Yes, ABC has specially trained technicians who provide commercial pest control in Palm Coast because we understand that businesses have different requirements than residences. Our commercial customers appreciate that we implement effective pest control management plans for the specific needs of their industry and facility.
Get Started
We offer a full range of pest control services.
Additional Pest Control Service Areas in Greater Orlando
ABC serves many surrounding communities, including, but not limited to:
What Our Customers Are Saying
Errol Condominium
12/16/2021
"ABC Home & Commercial Services is a pleasure to work with! Our property has been using them for a year and the level of service has been exceptional. We especially love their quality control, which was a huge issue in the past. I'd like to personally compliment our regular technician, Melvin. Our staff, owners, and guests have all commented on his amazing customer service!"
"They always do an awesome job. We can call them anytime and they will do their best to help us. The best customer service and performance"
Need Pest Control For Your Business?
We understand that businesses have different needs than residences. That's why we have specially trained technicians who can service your business.