Pest Control in Kissimmee, FL
Visitors from across the world flock to Osceola County for our beautiful weather, which unfortunately is also the perfect environment for many different types of household pests, including cockroaches, mosquitoes, termites, bed bugs and rodents. The last thing anyone wants to deal with is a pest problem, especially because these creatures can be so hard to eliminate on your own. When it comes to pest control, Kissimmee home and business owners trust ABC Home & Commercial Services to quickly identify the source of an infestation, begin an effective treatment plan and implement measures to prevent future uninvited visitors and damage to your biggest investment.
Effective Pest Control Solutions
At ABC, we believe that a treatment plan is most effective when it is customized to target your situation, so we develop customized estimates based on your needs. Once you reach out to ABC, we will schedule a time for one of our trained inspectors to meet you at your property at your earliest convenience. During that time, our inspector will have a chance to look for damage and entry points and determine the extent of your pest problem.
After you have had the opportunity to ask any questions you might have, we will deliver a free, no obligation estimate based on our recommended next steps. Once you have had a chance to look over the estimate and approve it, we can schedule your first appointment so treatment can begin.
The ABC Process
1. Contact ABC
When you contact us, we will schedule an inspection to get an understanding of the problem. In some cases, we can give you a quote over the phone.
2. Get An Estimate
If you have an inspection, we will send you a custom treatment plan and estimate afterward. Once we get your approval, we will schedule your treatment.
3. Treatment
We will come to your property and treat for pests in common hiding and nesting areas. Over time, you will start seeing less and less pest activity.
4. Prevention
Customers with our ongoing pest management services will receive periodic retreatments to prevent the return of the most common pests in our area.
One reason that we develop a custom solution for every pest problem is that the frequency and length of your treatment regimen will be based on a number of factors, including what type of pests you are dealing with, the life stage the pest is in (egg, larvae and adult) and the extent of your problem.
In some situations, your ABC technician can handle a pest problem in just a few visits. In other cases, a more comprehensive approach is required. Many products are designed to be most effective within a certain time window, so our technicians may recommend periodic return visits to make sure your pest population is kept under control and a recurrence does not happen.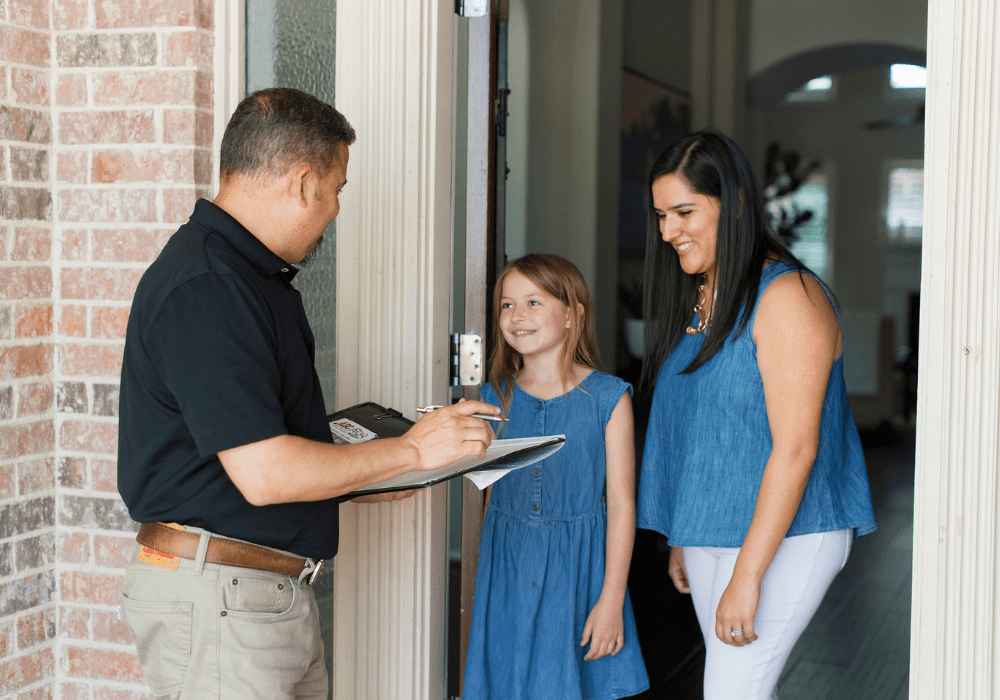 Get Started
We offer a full range of pest control services.
Frequently Asked Questions
Are ABC's pest control products friendly for my pets and children?
ABC takes the well-being of your family very seriously, so we use pest products which are effective while being low-impact. Our technicians apply all products very carefully, in low concentrations for residential use. We are happy to work with our customers to come up with treatment solutions which fit your needs. Since ABC uses integrated pest management principles, our treatment solutions emphasize making changes to your environment to make spaces less hospitable to pests before taking chemical interventions. In doing so, we minimize the volume of products we use.
Does ABC provide commercial pest control services?
ABC is a top provider of commercial pest control solutions for businesses in the greater Orlando area. Our technicians are highly skilled and knowledgeable about how to quickly troubleshoot and treat different types of business for all the common commercial pests. Whether your business centers around food processing, hospitality and lodging, health care, restaurant and food service, retail, apartment complexes or schools, ABC can handle your commercial pest control.
Get Started
We offer a full range of pest control services.
Additional Pest Control Service Areas in Greater Orlando
ABC serves many surrounding communities, including, but not limited to:
What Our Customers Are Saying
Errol Condominium
12/16/2021
"ABC Home & Commercial Services is a pleasure to work with! Our property has been using them for a year and the level of service has been exceptional. We especially love their quality control, which was a huge issue in the past. I'd like to personally compliment our regular technician, Melvin. Our staff, owners, and guests have all commented on his amazing customer service!"
"They always do an awesome job. We can call them anytime and they will do their best to help us. The best customer service and performance"
Need Pest Control For Your Business?
We understand that businesses have different needs than residences. That's why we have specially trained technicians who can service your business.