Pest Control in St. Cloud, FL
Many of us love living in St. Cloud because of its small-town charm, its beautiful lakefront and our strong sense of community. What we don't love is when unwelcome houseguests stick around, especially when those are of the roach, rodent, termite, mosquito, bed bug, ant, flea, tick, bee or wasp variety. These creatures can pose serious health risks for you and your family, including being vectors for disease, contaminating our food, destroying our property and disrupting our normal routines. When it comes to pest control, St. Cloud homeowners count on ABC Home & Commercial Services for practical, effective solutions.
Effective Pest Control Solutions
ABC strives to make life easier on homeowners, and that philosophy begins with our free inspections and our complimentary, no-obligation estimates.
How does the process work, exactly?
After you reach out to us online or by phone, we will arrange for a convenient time for an inspector to meet you at your home to get more details about your pest problem. Once we have all the information we need, we can develop a customized treatment plan to address the specific issues you are having. In some cases, we can even recommend services on a phone call so you can skip the inspection altogether.
If we recommend having that in-person inspection, we'll conduct a survey of your property to get a better sense as to the extent and severity of your infestation, identify what pests are responsible for disrupting your normal routine (if you aren't sure) and give you a chance to ask us any questions you may have about our protocol or techniques.
Once that meeting is over, we will deliver a free, no-obligation estimate so that you can approve our next steps. After we hear back from you, we can schedule the first service call at a time that's most convenient to you.
The ABC Process
1. Contact ABC
When you contact us, we will schedule an inspection to get an understanding of the problem. In some cases, we can give you a quote over the phone.
2. Get An Estimate
If you have an inspection, we will send you a custom treatment plan and estimate afterward. Once we get your approval, we will schedule your treatment.
3. Treatment
We will come to your property and treat for pests in common hiding and nesting areas. Over time, you will start seeing less and less pest activity.
4. Prevention
Customers with our ongoing pest management services will receive periodic retreatments to prevent the return of the most common pests in our area.
We recommend having an inspector come to your property to see first-hand what you are dealing with and to use the information from that meeting to create a treatment plan designed especially for you.
Depending on how severe your infestation is, we may need only a handful of visits, or we may recommend a longer course of treatment. Since pest activity tends to be cyclical in nature, in many cases we may recommend we return to monitor your property so that we can ensure that your pest population is controlled and that treatments are working as intended.
One other thing we should mention is that in many cases, pest activity can increase temporarily while pests are driven out of their normal hiding spots. Over time, you'll begin to see fewer pests until your pest population is brought under control.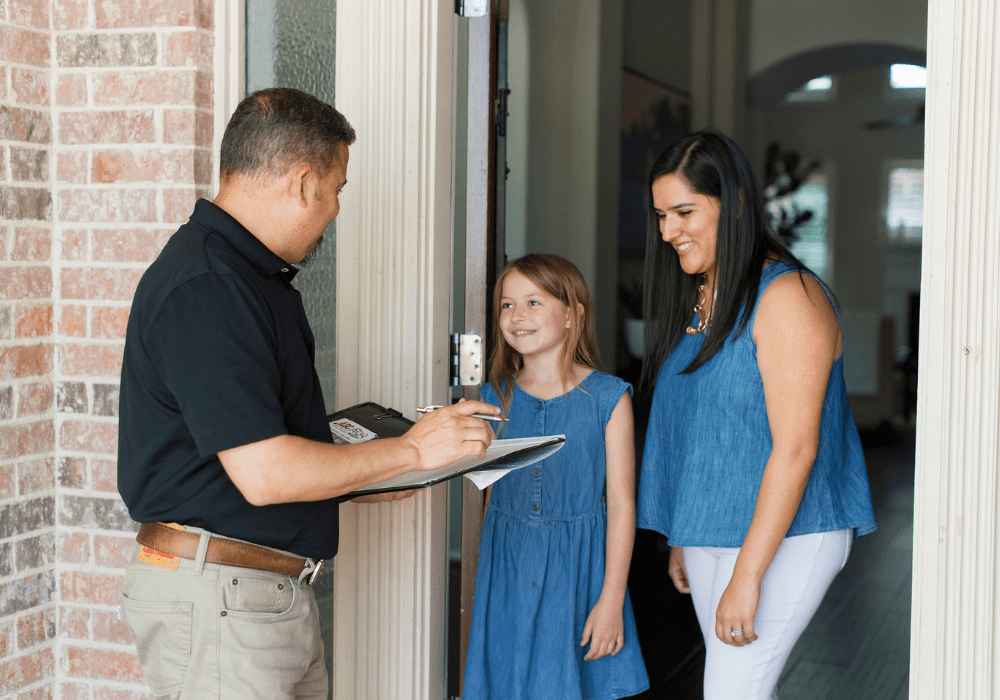 Get Started
We offer a full range of pest control services.
Frequently Asked Questions
I'm concerned about the impact of pest products on my kids, pets and the larger environment. What can you tell me about your treatments?
At the foundation of our work are the principles of Integrated Pest Management (IPM). Recognized by many, including the Environmental Protection Agency, as an effective means of long-term protection against the risks pests pose, IPM focuses on the prevention of pest activity through non-chemical means.
What this might look like on your property would be to install protective mesh around any openings around the exterior of your home to prevent rats from entering to build a nest. It may be recommending changes to your irrigation system to prevent water from pooling, since standing water encourages mosquitoes to lay eggs. We may recommend thinning out dense vegetation, removing leaf litter or getting rid of a woodpile, since these spaces provide food and shelter for various types of common household pests.
Once these steps are in place, we can apply treatments on an as-needed basis. The products we use have been specially made for residential use. Our technicians are trained to apply these products in low concentrations, only where necessary, in minimal amounts to target a specific pest.
We are a family-owned and run business, so your well-being is our top priority. We are happy to answer any questions you might have about the products we intend to use or address your concerns of how we select products are low-impact, yet effective to counter the real risks that common household pests can pose to you and your family.
Get Started
We offer a full range of pest control services.
Additional Pest Control Service Areas in Greater Orlando
ABC serves many surrounding communities, including, but not limited to:
What Our Customers Are Saying
"Nestor, was our service tech and from the moment he was greeted at the door to the moment he left and had to return on the same day, he was very professional and took time to explain and answer our questions. After he completed the work, he gave a tour of what was treated, what was found, and recommendations to help in the elimination of the pests. It was far worst than previously thought. However, Nestor's explanation of how it works gave us confidence that we are, at the moment, in good hands with ABC Home & Commercial Services. This is the service that is missing from many in the service industries. One NOTE: the name, ABC H&CS, did not appear to me as a pest control service company. Is it possible that others are missing out on this great service because the name does not match what is being looked for? Pest Control. Much continued success ABC!"
"Tyler was on time, professional, friendly, and very thorough in his inspection of our house. He explained everything that he was doing and answered all questions thoroughly. We had a great experience and feel that we made the right decision in choosing ABC for our home pest control. Thank you Tyler!"
Need Pest Control For Your Business?
We understand that businesses have different needs than residences. That's why we have specially trained technicians who can service your business.