Lawn Service in Atascocita, TX
Who doesn't want a healthy green lawn? A beautiful yard adds curb appeal and value to your property, making spending time outside more enjoyable. However, keeping up with all that maintenance can feel like picking up a part-time job. Instead of spending your free time working on your yard, contact ABC Home & Commercial Services for any lawn services in Atascocita that you may need. Our pros can handle it, and you won't have to lift a finger.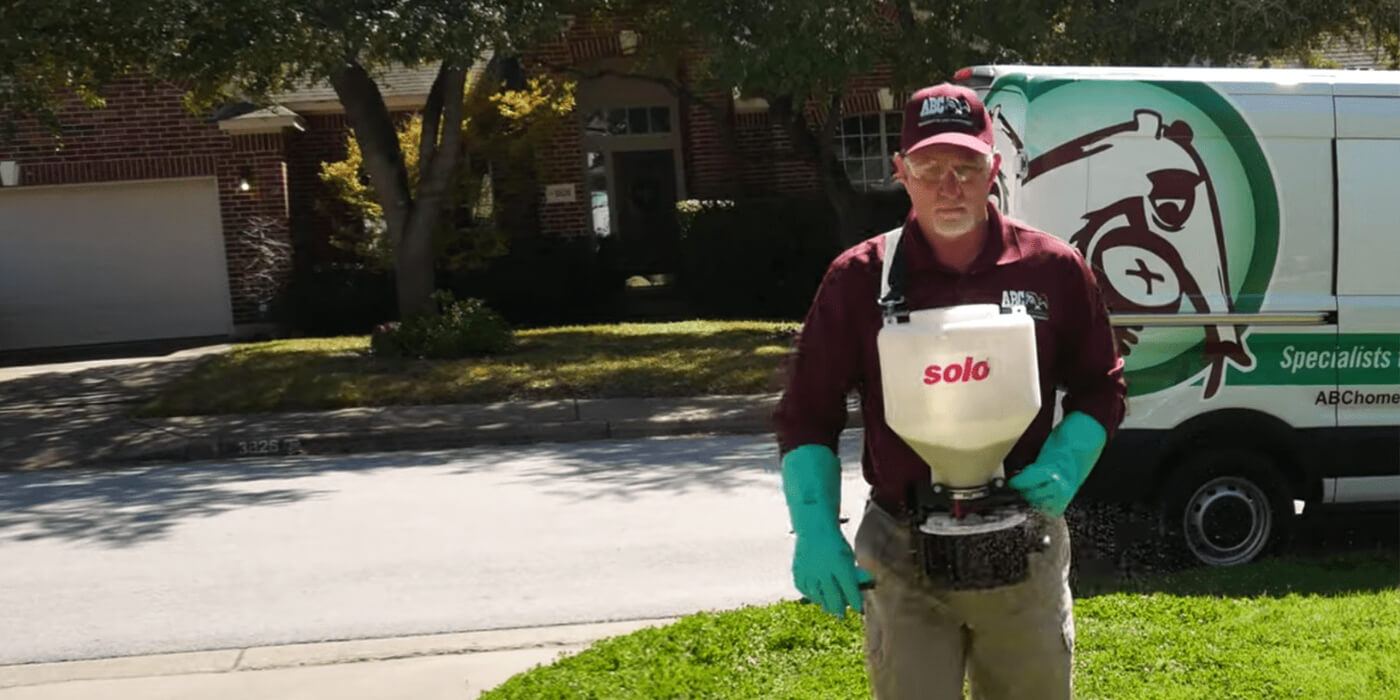 Download Transcript
Comprehensive Lawn & Landscaping Services
ABC is a family-run business, and the decisions about all of the products that we select for our services are made with your family members in mind. We only consider products that are specially formulated for residential use. When we come to your property for your initial consultation, your lawn care expert would be happy to address any of your questions or concerns regarding our lawn care protocols, including any questions you may have about the products we use.
The ABC Process
1. Contact ABC
We'll learn what you need over the phone or during an in-person meeting at your home. Usually, we can schedule an appointment in a few business days.
2. Get An Estimate
We'll provide you with an estimate based on your goals and our recommended set of services. Once we get your approval, we will get you on the schedule.
3. Service
Our trained specialists perform all agreed-upon services. When we're done, we will clean up any debris to keep your yard neat and looking great.
4. Follow-Up
Depending on what services we performed on your property, we'll provide you with an update or recommend additional follow-up or ongoing services.
The growth rates of lawns throughout the greater Houston metro differ due to different factors, including grass condition, soil moisture, soil type, nutrient density of your soil, shade and sun exposure.
For most of our customers, we provide biweekly mowing services. However, we can create a customized mowing schedule that fits with your specific wants and needs.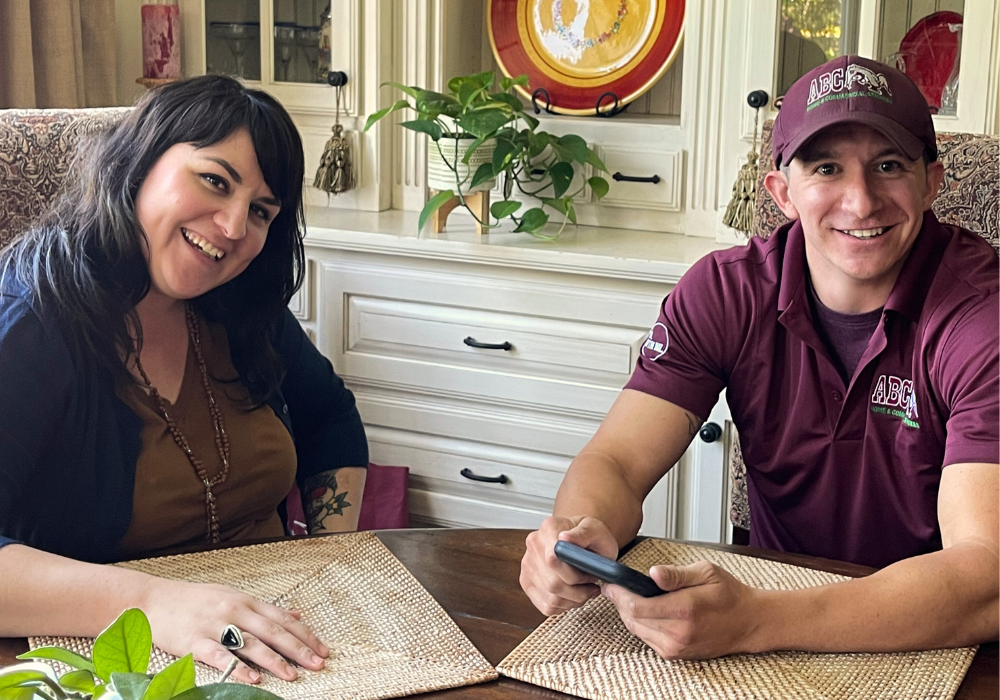 Get Started
We can turn your vision for your yard into reality.
ABC has been helping homeowners and business owners for generations. As a family-run business, we understand that you want to feel comfortable whenever a technician arrives at your home, which is why we have an extensive hiring process that includes a background check and a drug test. Once on our team, all of our technicians go through an in-house training program to learn all about lawn care as well as our high standards when it comes to customer service. Lastly, one of our values is that we treat our customers' homes as if they were our own. That means that you can feel comfortable that our technicians will be careful while on your property and around your belongings.
Frequently Asked Questions
What can ABC's lawn care technicians do for my Atascocita lawn?
ABC has been making homeowners' lives easier for over 70 years, and we are happy to take lawn care off of the to-do list for Atascocita residents. We provide a variety of lawn services to ensure that your lawn looks great and that your plants are healthy.
Our highly-trained specialists are here to help with any outdoor project you have in mind, no matter how small or large it may be.
We are happy to help with the following services:
Yes, you can mow your own lawn, but many people have a long list of things they would rather do, especially when the intense Texas sun is out. Instead of spending your precious time mowing your lawn, let the specialists at ABC do the hard work. When you set up lawn service with us, you can have peace of mind knowing that your lawn will be perfectly trimmed and edged and that you won't have to worry about it. Based on your wants or needs, we can set up a lawn mowing schedule for your property that fits your budget.
Whether you're looking to plant new flowers or you want your entire outdoor space transformed, ABC can help. Our landscape designers bring an in-depth knowledge of what plants grow well in our area and the nutritional and sunlight requirements these different plants have to advise our clients on what might work best in their outdoor spaces. Our skilled landscapers can also help with more involved landscaping projects, such as building decks and putting in outdoor kitchens. No matter what you're looking for, you can rely on our highly-trained specialists to listen to your goals taste, implement your ideas and make your yard a more enjoyable place for you to be.
Outdoor lighting can add beauty to your home by highlighting features such as water fountains or beautiful trees. By highlighting stone pathways and stairs, these features can also make your home safer by helping prevent guests from tripping. Although there are many benefits to outdoor lighting, actually getting everything set up takes a lot of time and effort, from choosing which lights to use to making sure you have an ample power supply nearby. Fortunately, you can count on the specialists at ABC to get your outdoor lighting set up just how you would like it.
With our intense summers here in Harris County, our lawns need to have a good watering schedule in place in order to survive our relentless sunshine and high temperatures. If something goes wrong or your irrigation isn't efficient, you could end up with a high utility bill and a brown lawn. When you get in touch with ABC for our sprinkler services, our licensed irrigation specialists will be able to quickly diagnose and fix your sprinkler problems and can even advise you on how to be more water-efficient when it comes to your lawn watering schedule.
While trees can be a beautiful addition to our yards, they can also create problems as they get older or become diseased. Trees that are at risk of falling can put you, your family members and your property in danger. Additionally, trees that have become diseased can infect other nearby healthy trees. Whatever reason behind needing trees removed from your property, you can count on ABC's tree care specialists to do the job safely and efficiently.
Trees add curb appeal, shade and privacy. However, taking care of trees can be a difficult task. Fortunately, our certified arborists provide a variety of tree care services and can trim back any branches that are at risk of falling or are otherwise causing problems.
What can I expect to happen during ABC's initial consultation?
When you contact ABC, we schedule an initial consultation so we can better understand the current state of your lawn. While we can occasionally do this consultation over the phone, we typically prefer to come to your home to get a first-hand look at your plants and grass. This in-person meeting allows us to create a plan that will be most beneficial for your lawn. Once we have gathered all of the information that we need, we will provide you with an estimate. This estimate will outline all of the services that we will provide and all associated costs. At ABC, we value transparency and you won't have to worry about any hidden or unexpected costs.
Who will ABC send to mow my yard?
A reliable, highly-trained ABC lawn mowing specialist will be cutting your grass. One benefit of hiring ABC is that our lawn care specialists are part of our lawn department, which is made up of landscapers, tree care professionals and pest control experts. This means that our customers benefit from professionals who take a holistic approach to lawn care.
Does ABC provide its lawn services to businesses in Atascocita as well?
Yes, we do! We have a dedicated commercial lawn care team that provides lawn services to businesses in Atascocita. With ABC's lawn services, you can feel confident knowing that your business will make a great first impression on your customers.
Get Started
We can turn your vision for your yard into reality.
Additional Landscaping Service Areas in Houston
ABC serves many surrounding communities, including, but not limited to:
What Our Customers Are Saying
"Very friendly and helpful staff. On time and great service. They helped me trap and remove the mice that got into my house. The biggest part of their service is preventing them from coming in again. Every one of the people I dealt with either in the field or at the office were super nice! Highly recommend them. Very happy with my service."
"Professional staff, easy to schedule, and great communication. From the very first visit technician was efficient and pointed out a few areas to be aware of. Overall very impressed with quality of service. We have used ABC from the fall 2019 and still very satisfied. Our tech is amazing and does a great job addressing problem spots! We added the mosquito supression service and it has given us our outdoor space back! We love ABC and all techs are highly qualified and trustworthy!"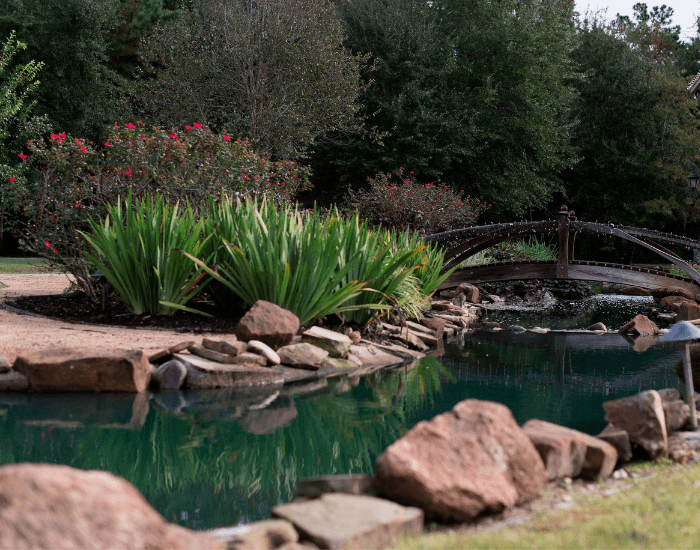 Need Landscaping Services For Your Business?
Our landscaping pros can make seasonal updates or perform a complete transformation so you make a good first impression on your customers.
ABC's Complete List of Home Services in Houston
Why deal with multiple service providers when ABC can do it all?