Lawn Service in Richmond, TX
It's not easy to maintain a lush lawn in the greater Houston area—not with the hot, humid summers and occasional flooding. The pros at ABC Home & Commercial Services have been keeping lawns green and vibrant across Texas for generations. Our experts understand exactly what it takes to ensure your lawn is beautiful all year round. We can even help with other landscaping needs, from trimming hedges to repairing your sprinklers and even installing outdoor lighting. If you're looking for lawn service in Richmond, look no further than ABC.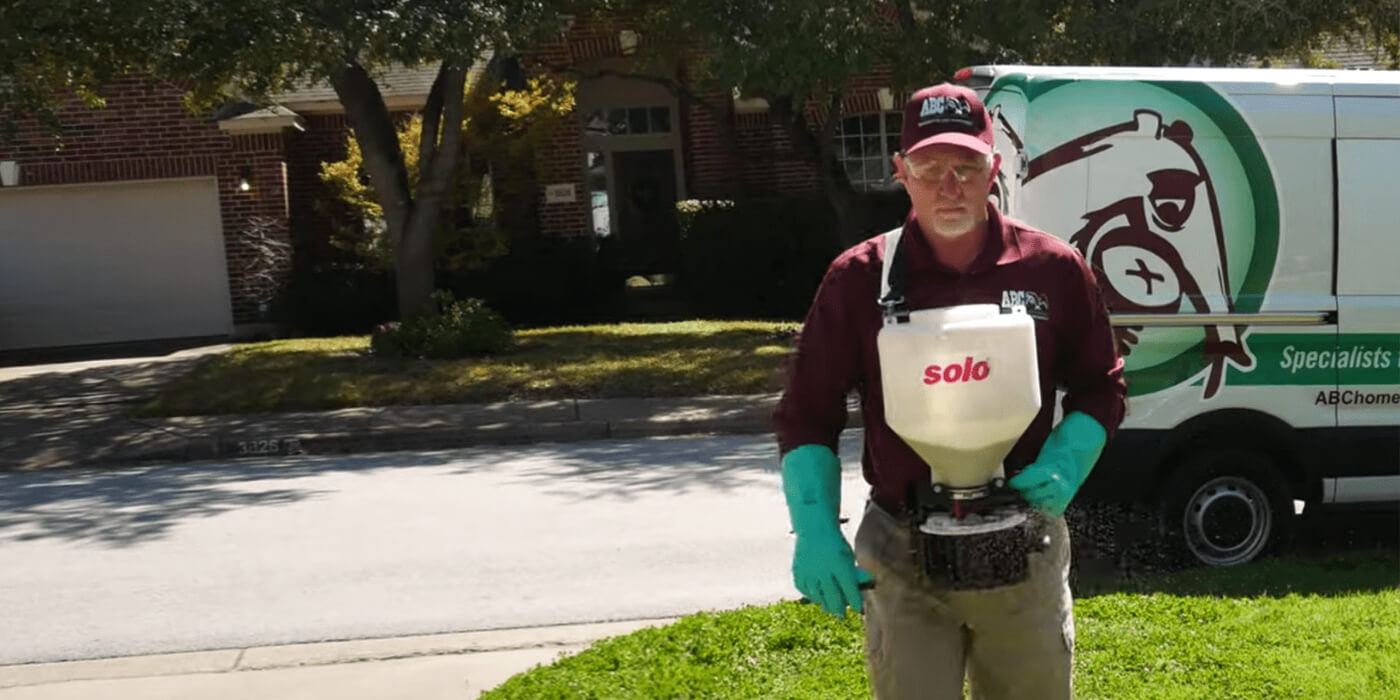 Download Transcript
Comprehensive Lawn & Landscaping Services
We understand these concerns. Our goal is always to enhance the health and overall beauty of your lawn and property while having the least possible negative impact on the environment and your family.
ABC's lawn care technicians only use products that have been rated for residential use in low concentrations, applied carefully with the utmost concern for the well-being of your household.
If you have questions or concerns about a specific product or practice ABC engages in, please do not hesitate to get in contact with us.
The ABC Process
1. Contact ABC
We'll learn what you need over the phone or during an in-person meeting at your home. Usually, we can schedule an appointment in a few business days.
2. Get An Estimate
We'll provide you with an estimate based on your goals and our recommended set of services. Once we get your approval, we will get you on the schedule.
3. Service
Our trained specialists perform all agreed-upon services. When we're done, we will clean up any debris to keep your yard neat and looking great.
4. Follow-Up
Depending on what services we performed on your property, we'll provide you with an update or recommend additional follow-up or ongoing services.
The growth rates of lawns in the greater Houston area differ based on factors such as grass condition, soil moisture, soil type and nutrients, shade, amount of sunlight and more.
Generally, most Richmond homeowners have their lawns mowed on a bi-weekly basis. We can, however, create a customized mowing schedule in line with your specific requests and expectations.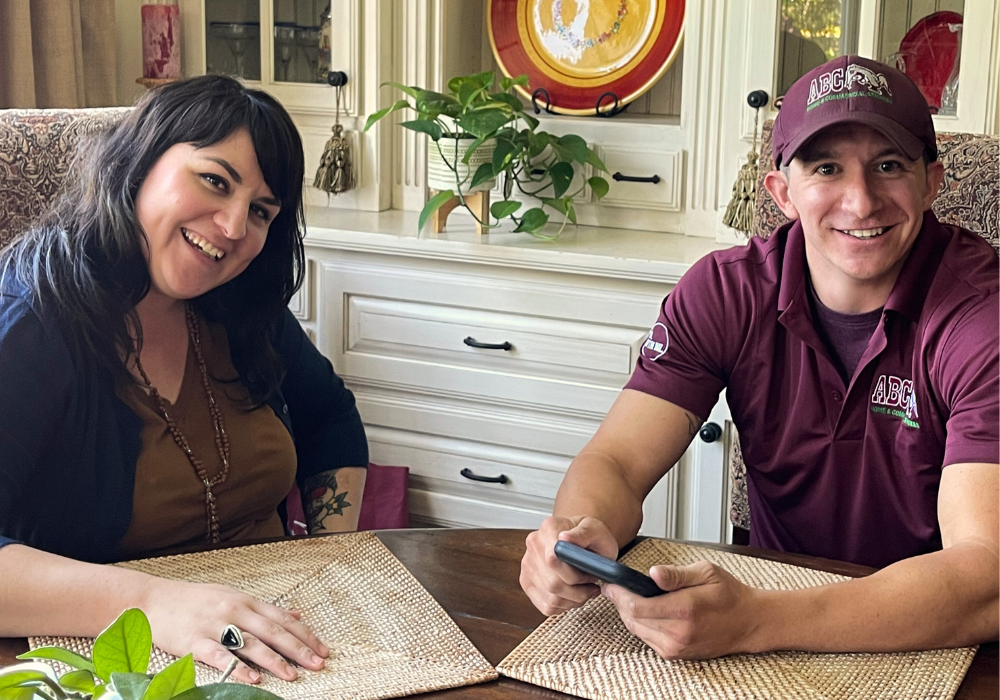 Get Started
We can turn your vision for your yard into reality.
A trusted ABC lawn mowing technician will be assigned to cut your grass. Our lawn care specialists are part of a team comprised of landscapers, tree specialists and pest control experts. This means that ABC customers benefit from professionals who take a holistic approach to lawn care.
Frequently Asked Questions
What can ABC's lawn care technicians do for my Richmond lawn?
Lawn care needs vary from one region to the next. At ABC Home & Commercial Services, we train our lawn technicians on the specific local requirements and conditions. In other words, we know what works best for Richmond lawns.
This knowledge, combined with our long-standing experience, will leave your lawn looking more beautiful than it's ever been.
If you are a homeowner in Richmond, you can count on ABC Home & Commercial to provide first-rate services in:
Yes, you could mow your own lawn, but wouldn't you rather be relaxing at Lake Conroe, or just sitting inside watching the Texans or Astros?
When you set up service with us, our lawn technicians do all the hard work while you get to reap the benefits. Plus, Richmond residents who use ABC's weekly or biweekly lawn service know that they will always have a perfectly trimmed and edged lawn.
Want to be the envy of your neighborhood with amazing landscaping (and great curb appeal)? Whether you're looking to design something completely new or just better maintain the landscaping you already have, ABC can help.
Our landscape designers possess an in-depth knowledge of what plants grow best in our area, as well as their nutritional and sun requirements, and we can make sure your landscaping is lush and gorgeous, no matter what the season.
We can upgrade existing landscapes, create new landscapes from scratch, help make your landscape more water-efficient and improve its resilience to our brutal Texas summers.
Your lawn looks fantastic. Your landscaping is breathtaking.
But something's missing.
Maybe it's because you have no lighting set up to showcase your home's features.
If you're thinking about upgrading your lighting system, or aren't sure how to get started, ABC has a dedicated team of lighting experts who can create the perfect outdoor ambiance that highlights what you want to show off. Just as importantly, adding more outdoor lighting can also go a long way towards bolstering the safety of your home.
The saying "everything is bigger in Texas" does not apply to the amount of rainfall we receive. It's not uncommon for many areas of our state to go for weeks or months with little to no rain, and Conroe is no exception.
What does that mean for your lawn? A working and efficient sprinkler system is critical.
If your current system is broken beyond repair, our irrigation pros can install a highly-efficient lawn sprinkler system that can withstand both cold and hot weather extremes to make sure your lawn is served well all year long.
Those who already have sprinkler systems can take advantage of our excellent sprinkler maintenance and repair services to troubleshoot and correct any defects in your lawn sprinkler system. We also offer services to improve water efficiency and help you expand your landscaping footprint using sprinklers.
It's an unfortunate reality of living in Texas: the ever-changing weather patterns, coupled with the periodic flooding, has been known to destabilize the root systems of our trees, putting these majestic plants in danger of falling, which puts your loved ones and belongings at risk. Additionally, trees may become infected by parasites or diseases that compromise not only the tree itself, but the health of your lawn. In other cases, you may want to add a structure to your property and a tree is in the way.
Bottom line? There are countless reasons why you might want to remove a tree from your property. Unfortunately, the process can be complicated, time-consuming and even dangerous.
To remove such trees quickly and safely, reach out to our tree removal pros. We understand the proper procedures and regulations, as well as the best ways to handle the job to keep the rest of your lawn and landscaping intact.
Well-maintained bushes and professionally trimmed trees are key components of an amazing landscape in Richmond. Our wide range of lawn services includes tree care services that involve the trimming of bushes, ornamental trees and other large plants.
What can I expect to happen during ABC's initial consultation?
Your very first consultation at ABC will help us understand the current state of your lawn. Using the information we get from you during this consultation, we're able to help you decide which lawn services will best meet your needs and budget.
This initial consultation can be done over the telephone, although we prefer in many cases for this to happen in person, because we've found that getting a first-hand look at your property provides us with the most accurate information to give you the best idea of what lawn services would benefit you most.
After your contact ABC, we'll usually send out one of our trained inspectors for a home visit.  During the visit, the inspector will physically inspect your lawn and ask you a series of questions about your expectations and priorities.
Once we've gathered all the lawn-related info that we need, we'll give you a no-obligation estimate. This estimate outlines what work we will do and the associated costs. This way, you can be sure that there are no hidden or unexpected costs before we begin.
There are signs of fungus or some other condition on my lawn. Can ABC help?
Of course we can!
Our technicians are trained to correctly identify and treat any lawn disease, fungus, pest, weed or any other problem you might have.
Talk to us if you suspect that your lawn is suffering from take-all patch, iron chlorosis, brown patch or another type of lawn disease, and we'll send someone over to take a look.
Does ABC provide its lawn services to businesses in Richmond as well?
Absolutely.
In fact, ABC has a dedicated commercial services team that's focused exclusively on providing lawn care services to businesses in and around Richmond. Through these commercial lawn care services, ABC has helped countless businesses maintain an attractive exterior without having to hire additional staff or procure expensive lawn equipment.
Get Started
We can turn your vision for your yard into reality.
Additional Landscaping Service Areas in Houston
ABC serves many surrounding communities, including, but not limited to:
What Our Customers Are Saying
"Very friendly and helpful staff. On time and great service. They helped me trap and remove the mice that got into my house. The biggest part of their service is preventing them from coming in again. Every one of the people I dealt with either in the field or at the office were super nice! Highly recommend them. Very happy with my service."
"Professional staff, easy to schedule, and great communication. From the very first visit technician was efficient and pointed out a few areas to be aware of. Overall very impressed with quality of service. We have used ABC from the fall 2019 and still very satisfied. Our tech is amazing and does a great job addressing problem spots! We added the mosquito supression service and it has given us our outdoor space back! We love ABC and all techs are highly qualified and trustworthy!"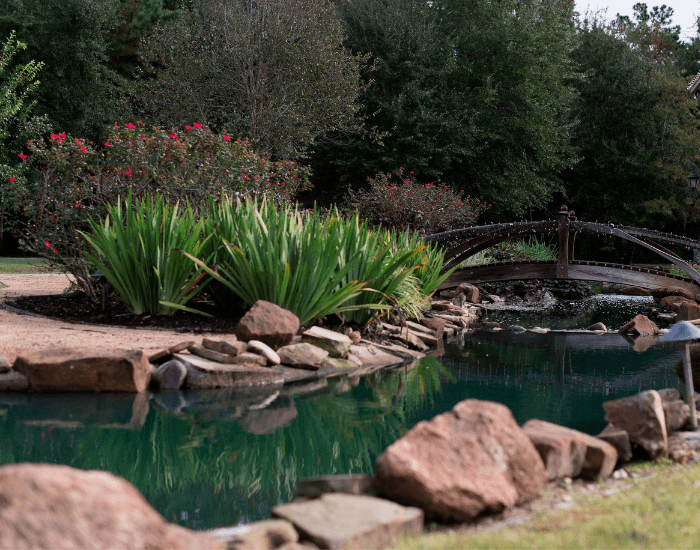 Need Landscaping Services For Your Business?
Our landscaping pros can make seasonal updates or perform a complete transformation so you make a good first impression on your customers.
ABC's Complete List of Home Services in Houston
Why deal with multiple service providers when ABC can do it all?