Lawn Service in Sugar Land, TX
Our humid, hot and seemingly endless summers, combined with periodic flooding events, make keeping a green and healthy lawn here in Sugar Land quite a challenge. First, there is regular mowing when you'd rather be relaxing on the weekends, then there is keeping up with your landscaping—and that's just the tip of the iceberg, if you have trees to trim, sprinklers that may need repairs and outdoor lighting you'd like installed. When it comes to lawn service, Sugar Land homeowners prefer to leave the heavy lifting to a company that has a reputation for delivering high-quality, reliable work on a consistent basis: ABC Home & Commercial Services.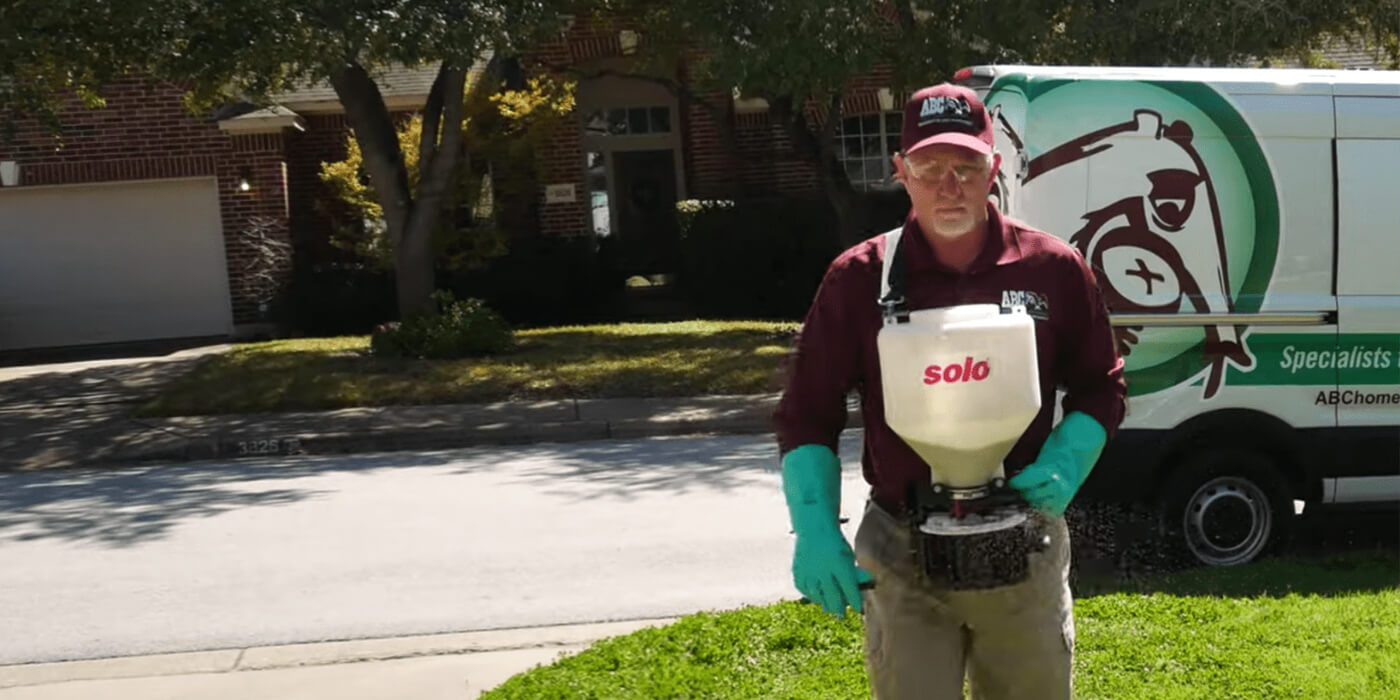 Download Transcript
Comprehensive Lawn & Landscaping Services
There is nothing in our mind that is a higher priority than the well-being of your family. That's why we have carefully selected the products we use to be as low-impact as possible on your pets, children and the larger ecosystem. Moreover, our technicians are specially trained to apply any products in low concentrations to impacted areas, so we are only delivering solutions to targeted areas, unless absolutely necessary.
We care about your household and we care about the greater Houston community which we have been serving for generations. Our technicians are happy to address any concerns you may have about the products we intend to use in your home and on your yard and make adjustments if needed.
The ABC Process
1. Contact ABC
We'll learn what you need over the phone or during an in-person meeting at your home. Usually, we can schedule an appointment in a few business days.
2. Get An Estimate
We'll provide you with an estimate based on your goals and our recommended set of services. Once we get your approval, we will get you on the schedule.
3. Service
Our trained specialists perform all agreed-upon services. When we're done, we will clean up any debris to keep your yard neat and looking great.
4. Follow-Up
Depending on what services we performed on your property, we'll provide you with an update or recommend additional follow-up or ongoing services.
As you might imagine, grass grows at different rates, depending on a number of factors. As much as we can, we try to take a customized approach to lawn care, based on the type of grass you have in your yard, its condition and whether any soil amendments are impacting your grass growth.
After we gather this information, we will provide you with a recommended mowing schedule. While we find that a majority of our customers prefer having us perform regular mowing—and while these calls are our priority—we can also come to perform more periodic services for our customers, if that's what you prefer.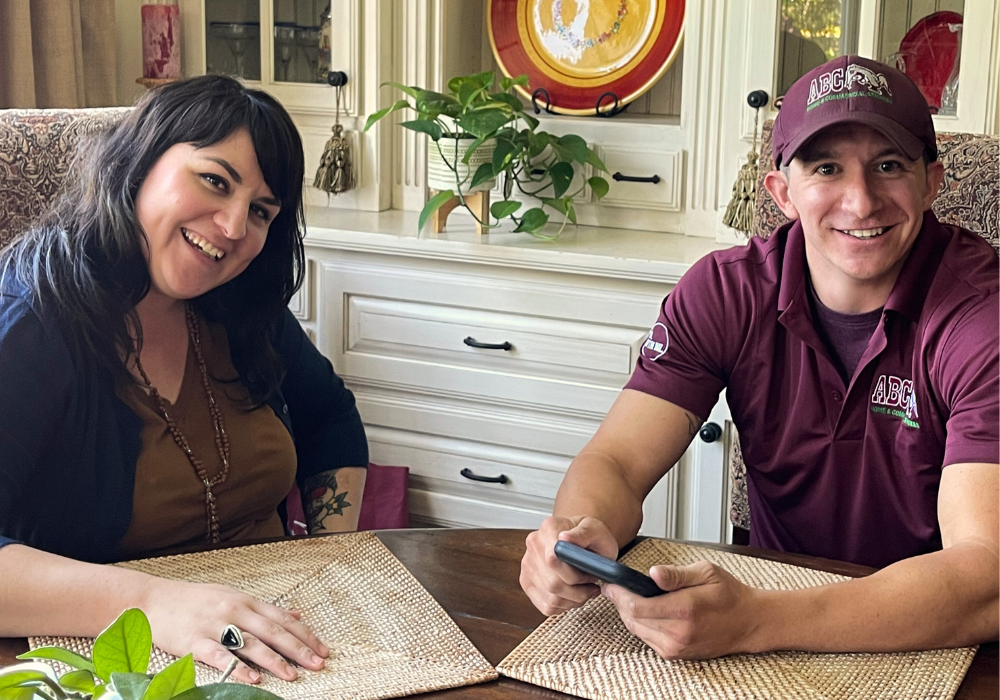 Get Started
We can turn your vision for your yard into reality.
What do our customers say they look for in a lawn service? Quality, dependability and experience. That dictates what we look for in our lawn care technicians. We make sure that the technician who comes to your home is trained in how to operate our commercial-grade equipment, so that the work is consistent each time. We make sure to show up when we say we will so that there are no surprises. When you choose ABC, you are in essence hiring a team of specialists, which includes arborists, entomologists, licensed pest control pros and landscapers, with decades of combined experience serving Houston-area homeowners.
Frequently Asked Questions
What can your ABC lawn technicians do for my Sugar Land lawn?
As a company, ABC prides ourselves on making homeowners' lives easier here in the greater Houston area, and that philosophy extends to our full-service lawn offerings.
We are happy to step in periodically to perform work, as you need it, or come more consistently for regular service.
ABC's background-checked, reliable lawn technicians can manage any outdoor project you have in mind, whether it's extensive or small.
When homeowners in Sugar Land need some help in their lawn, they call upon ABC for:
One of the most routine tasks around the home that can't be put off for too long is mowing your grass. ABC's mowing services don't end there, however. We will also trim your hedges, edge along your driveway and make sure everything looks nice and neat before we leave.
Maintaining your grass is one thing. Knowing enough about what plants do well year-round here in Sugar Land, plus their nutritional needs and sun requirements, is a lot of specialized knowledge that most homeowners simply don't have. Want to add an entirely new dimension to your landscape? ABC can help! Our landscape designers can create a new plan for you from scratch, improve upon what you have or simply swap out plants seasonally that can't survive our brutal Sugar Land summers. We can also help you plan for circumstances that are common in our area, including deer-proofing your yard. We can also make suggestions on how to adjust your planting so that you use less water on your yard or how to integrate more native, lower-maintenance species.
Trying to think about a way to better showcase certain elements of your exterior or majestic trees? Our lighting experts can advise you on how to best highlight these distinctive features, as well as how to make your home less attractive to burglars through lighting additions.
Thankfully, most Sugar Land homes are equipped with a sprinkler system, since manual watering would be quite a time commitment, given our hot and sunny climate. When your sprinklers are operating normally, life is good; when they aren't, it doesn't take long for grass to show signs of stress. ABC's irrigation pros can troubleshoot any problems that you are having, make repairs and perform regular checks on your system to make sure it is ready for peak season, as well as the winter months. We can also run diagnostic tests to determine if any leaks are contributing to water waste, or make suggested adjustments if you extend or alter your landscaping footprint. If your system is damaged beyond repair, our technicians can also handle installing an entirely new irrigation system for you.
Our trees here in Sugar Land are still reeling from damage sustained during drought cycles. What's worse, periodic flooding can destabilize root systems and encourage diseases to take hold. If your tree is unstable, it poses a significant risk to not only your property but also your family if it falls. There are also cases where new construction may make it necessary to remove a tree. In any of these cases, ABC's tree specialists can safely and quickly handle the removal process.
Trees need specialized care, and the average homeowner lacks the tools and expertise to effectively maintain these huge plants. ABC's tree specialists can perform seasonal care and provide you with tree trimming to keep your trees healthy and to minimize any risks from falling branches and limbs.
Whatever lawn work you have in mind, you can feel confident knowing that our trained, experienced specialists can get the job done so that you can spend more time on the activities you enjoy.
What does ABC do during the initial consultation?
For lawn services, we generally prefer to see your yard in person to get a better idea of exactly which services would best fit your needs and budget, and how often we'd recommend providing these services. That said, we are able to give you an estimate for some lawn services over the phone.
If you take advantage of this initial consultation, we'll arrange for a trained inspector to meet you at your home at your convenience. During this meeting, we'll ask you a series of questions to better gauge what your priorities are and how we can best help.
Once we've had a chance to talk to you in more detail and you have a chance to learn more about our services, we will send you a written estimate with recommended services. You can review this no-obligation estimate, which we provide to ensure that you don't have to deal with any hidden fees or unexpected expenses. Once you give us the thumbs up, we can schedule a time that is good for you for the work to be done.
If my lawn shows signs of a fungus or another condition, can ABC help?
Absolutely! ABC's experts can identify lawn diseases, including take-all patch, brown patch and iron chlorosis, as well as noting signs of stress on your plants from drought and shade. If you'd like, we can implement a treatment plan to help your yard recover and keep your plants looking healthy.
If I own a business in Sugar Land, can ABC handle the lawn needs there too?
We'd be happy to! Lawn care is a big part of making the exterior of your business inviting, so that's why many Sugar Land businesses call on ABC to help.
Business owners rely on our commercial lawn care team to cut the grass, trim bushes, add color to flower beds and remove any debris or limbs after a storm or when seasons change. With ABC's help, you can make a great first impression without having to divert internal resources to purchasing equipment or hiring additional facility staffers.
Get Started
We can turn your vision for your yard into reality.
Additional Landscaping Service Areas in Houston
ABC serves many surrounding communities, including, but not limited to:
What Our Customers Are Saying
"Very friendly and helpful staff. On time and great service. They helped me trap and remove the mice that got into my house. The biggest part of their service is preventing them from coming in again. Every one of the people I dealt with either in the field or at the office were super nice! Highly recommend them. Very happy with my service."
"Professional staff, easy to schedule, and great communication. From the very first visit technician was efficient and pointed out a few areas to be aware of. Overall very impressed with quality of service. We have used ABC from the fall 2019 and still very satisfied. Our tech is amazing and does a great job addressing problem spots! We added the mosquito supression service and it has given us our outdoor space back! We love ABC and all techs are highly qualified and trustworthy!"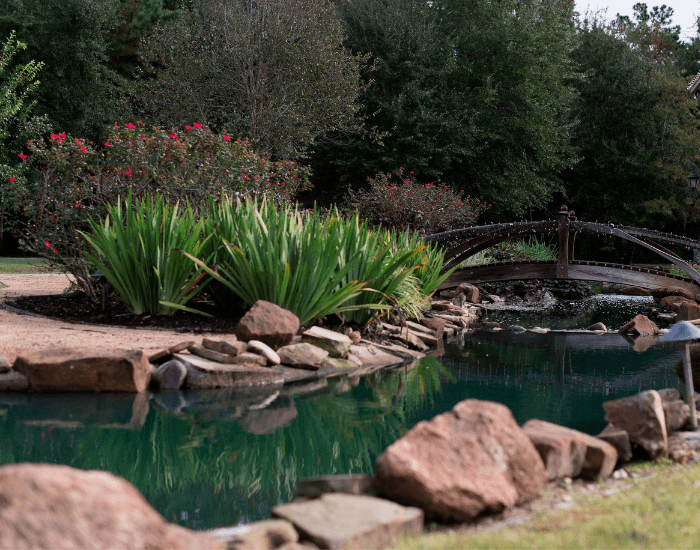 Need Landscaping Services For Your Business?
Our landscaping pros can make seasonal updates or perform a complete transformation so you make a good first impression on your customers.
ABC's Complete List of Home Services in Houston
Why deal with multiple service providers when ABC can do it all?