Lawn Service in Jersey Village, TX
We all want a green, well-manicured lawn, but having the time and skills to maintain a healthy yard is an entirely different matter. Plus, our hot and dry summers mean that our grass and plants may require extra attention. Instead of doing all this on your own, contact ABC Home & Commercial Services. Our pros provide a variety of lawn services in Jersey Village so you have more time to relax.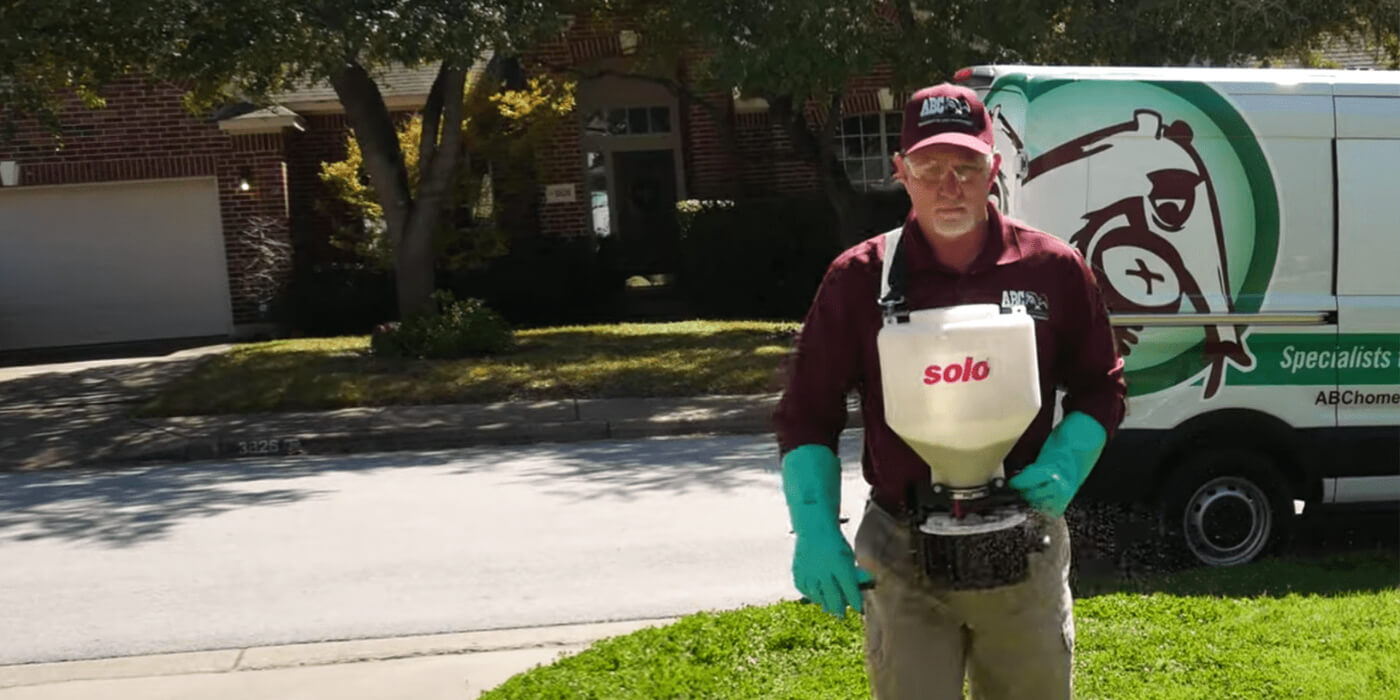 Download Transcript
Comprehensive Lawn & Landscaping Services
ABC is a family-owned business. One of our values is that we always treat our customers' homes as if they were our own. This philosophy extends to the products that we use for all of our services. We only select products that we would use on our own homes and those that are formulated for residential use. We also value transparency, so if you have any questions about the products that we use, your specialist would be happy to answer them.
The ABC Process
1. Contact ABC
We'll learn what you need over the phone or during an in-person meeting at your home. Usually, we can schedule an appointment in a few business days.
2. Get An Estimate
We'll provide you with an estimate based on your goals and our recommended set of services. Once we get your approval, we will get you on the schedule.
3. Service
Our trained specialists perform all agreed-upon services. When we're done, we will clean up any debris to keep your yard neat and looking great.
4. Follow-Up
Depending on what services we performed on your property, we'll provide you with an update or recommend additional follow-up or ongoing services.
The growth rates of grass in our area differs based on a variety of different factors, such as grass condition, grass type, soil moisture, soil type and nutrients, shade, sun exposure and more. Although most homeowners in the Jersey Village area have their lawns mowed on a bi-weekly basis, we would be happy to create a customized mowing schedule that is in line with your specific goals and preferences.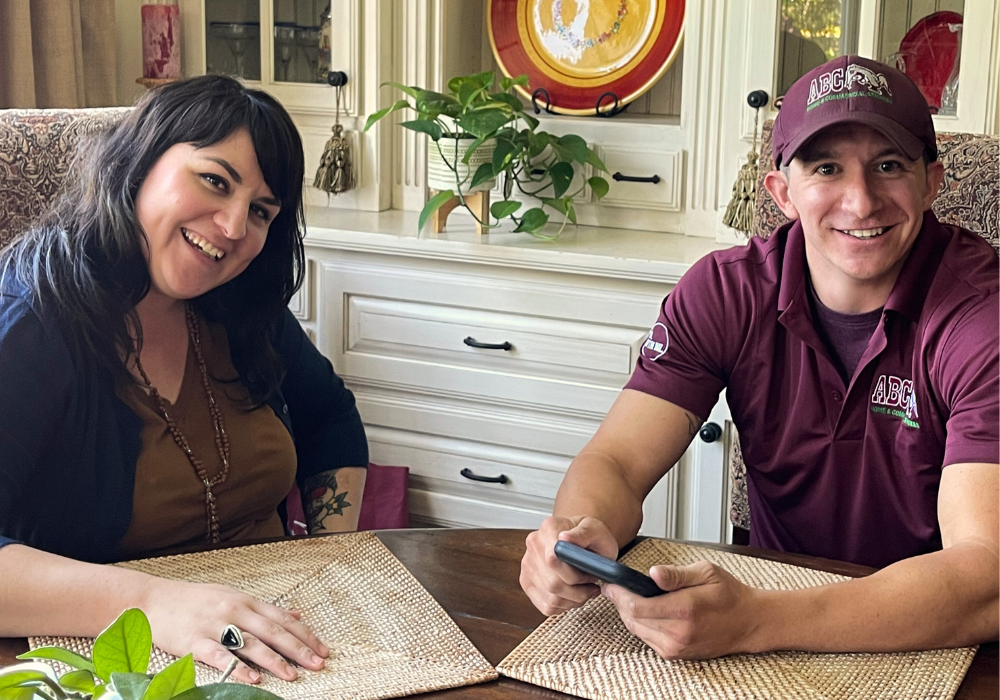 Get Started
We can turn your vision for your yard into reality.
ABC is a family-run business that has been around since 1949. We understand that you want to feel comfortable whenever a technician arrives at your home, which is why we have a stringent hiring process in place. All job applicants go through a thorough interview process and are drug tested and background checked. Before serving our customers, our technicians go through an in-house training program to learn all about our expectations for lawn care and customer service. Lastly, one of our values is that we treat our customers' homes as if they were our own. That means we'll always leave your property in as good or better condition than we found it.
Frequently Asked Questions
What can ABC's lawn specialists do for my lawn?
ABC has an extensive training program for our lawn technicians so they can best care for your grass and plants, based on your soil type, sun exposure and other specific local requirements and conditions. This knowledge, combined with our long-standing experience, allows us to keep your lawn green and healthy, all year long.
If you are a homeowner in Jersey Village, you can count on the highly-trained lawn care specialists at ABC for the following services:
Mowing your lawn is a tedious task for many homeowners. Add in the frequent high temperatures and mosquitoes, and this chore can easily become miserable. Instead of spending your free time cutting your grass, hand this thankless undertaking to the specialists at ABC. We have a deep understanding of the different grass types in the area and can create a mowing schedule that will keep your lawn healthy and green. Typically, in the Jersey Village area, we provide a weekly or biweekly mowing service so our customers' lawns will remain perfectly manicured.
Whether you're looking for a small update or you want a full yard transformation, ABC can help. Our team of designers and landscapers can help with any outdoor project you may need. We can execute nearly any task, from updating flower beds to building outdoor kitchens. Also, if you're not sure what you want exactly, but you know you are ready for a change, our landscape designers can create a design for you based on your style and preferences.
Here in Jersey Village, we enjoy spending time in our yards during the evenings. To make the most out of your yard at night, you can install a variety of types of outdoor lighting. These features have a variety of benefits. For example, you can use outdoor lighting to highlight your favorite areas of your yard, such as beautiful oak trees or water features. You can also add outdoor lighting to highlight stone pathways or stairways, so guests don't trip. The specialists at ABC can both help come up with an outdoor lighting plan for you, as well as guide the project from start to finish.
Brown patches, waterlogged areas and a surprisingly high water bill are all signs that something is amiss with your sprinkler system. Because these systems are located largely underground, it can be difficult to determine where in the system the problem has occurred. Fortunately, ABC has a team of licensed irrigation specialists who will be able to quickly diagnose the problem and get to work on fixing it.
ABC also offers irrigation system installation. Whether you're looking for sprinklers that are more water-efficient or if your yard's water needs have changed, we can help.
A dying or diseased tree on your property can pose a threat to your other trees, your property and your safety. If you're in need of tree removal, ABC can help. Our specialists have the training and tools to safely and effectively remove any trees from your property.
Trees add beauty, shade and privacy to our living spaces. While trees may seem relatively low maintenance, many homeowners don't recognize that they benefit from regular fertilizing, pruning and other types of care. Additionally, tall trees can be difficult and even dangerous to keep trimmed if you don't have the tools or know-how. When it comes to tree care and trimming, you can count on the specialists at ABC to get the job done.
What can I expect to happen during ABC's initial consultation?
After you reach out to ABC, we will schedule an appointment for one of our lawn care specialists to come to your property for your appointment. During this meeting, your specialist will inspect your lawn and then ask you questions about your expectations and priorities. Based on your answers, we will provide you with recommendations for which lawn services will best meet your needs and budget.
Once we have gathered all of the needed information, we will create an estimate for our services. This estimate will outline what work we will do and any associated costs, so you don't have to worry about any hidden or unexpected fees before we begin.
Who will ABC send to mow my lawn?
One of our lawn mowing specialists will be assigned to mow your lawn. You can expect that, for the most part, the same crew will cut your grass, so these technicians will be familiar with your yard and your preferences. When you contact ABC for lawn mowing services, you will also benefit from an interconnected team of professionals who take a holistic approach to lawn care. Our team of professionals includes landscapers, tree specialists and pest control experts, so we can recommend our specialists from other disciplines to handle other aspects of your yard to make your life easier.
Does ABC provide its lawn services to businesses in Jersey Village as well?
Absolutely! In fact, we have a specialized commercial lawn services team that provides services to businesses in Jersey Village and throughout Harris County. You can rely on our commercial lawn specialists to keep your business looking well-manicured so you make a good first impression.
Get Started
We can turn your vision for your yard into reality.
Additional Landscaping Service Areas in Houston
ABC serves many surrounding communities, including, but not limited to:
What Our Customers Are Saying
"Very friendly and helpful staff. On time and great service. They helped me trap and remove the mice that got into my house. The biggest part of their service is preventing them from coming in again. Every one of the people I dealt with either in the field or at the office were super nice! Highly recommend them. Very happy with my service."
"Professional staff, easy to schedule, and great communication. From the very first visit technician was efficient and pointed out a few areas to be aware of. Overall very impressed with quality of service. We have used ABC from the fall 2019 and still very satisfied. Our tech is amazing and does a great job addressing problem spots! We added the mosquito supression service and it has given us our outdoor space back! We love ABC and all techs are highly qualified and trustworthy!"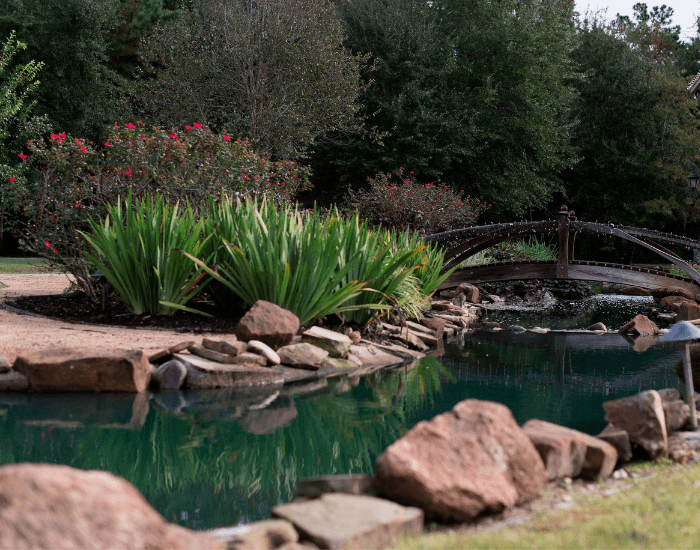 Need Landscaping Services For Your Business?
Our landscaping pros can make seasonal updates or perform a complete transformation so you make a good first impression on your customers.
ABC's Complete List of Home Services in Houston
Why deal with multiple service providers when ABC can do it all?