Heating Repair in San Antonio, TX
Here in Texas, we aren't too used to feeling chilly inside our homes. So, when something goes wrong with your central heat, things can get uncomfortable fast. If you find yourself in this situation, contact ABC Home & Commercial Services. Our licensed pros are available 24/7 for heating repair in San Antonio.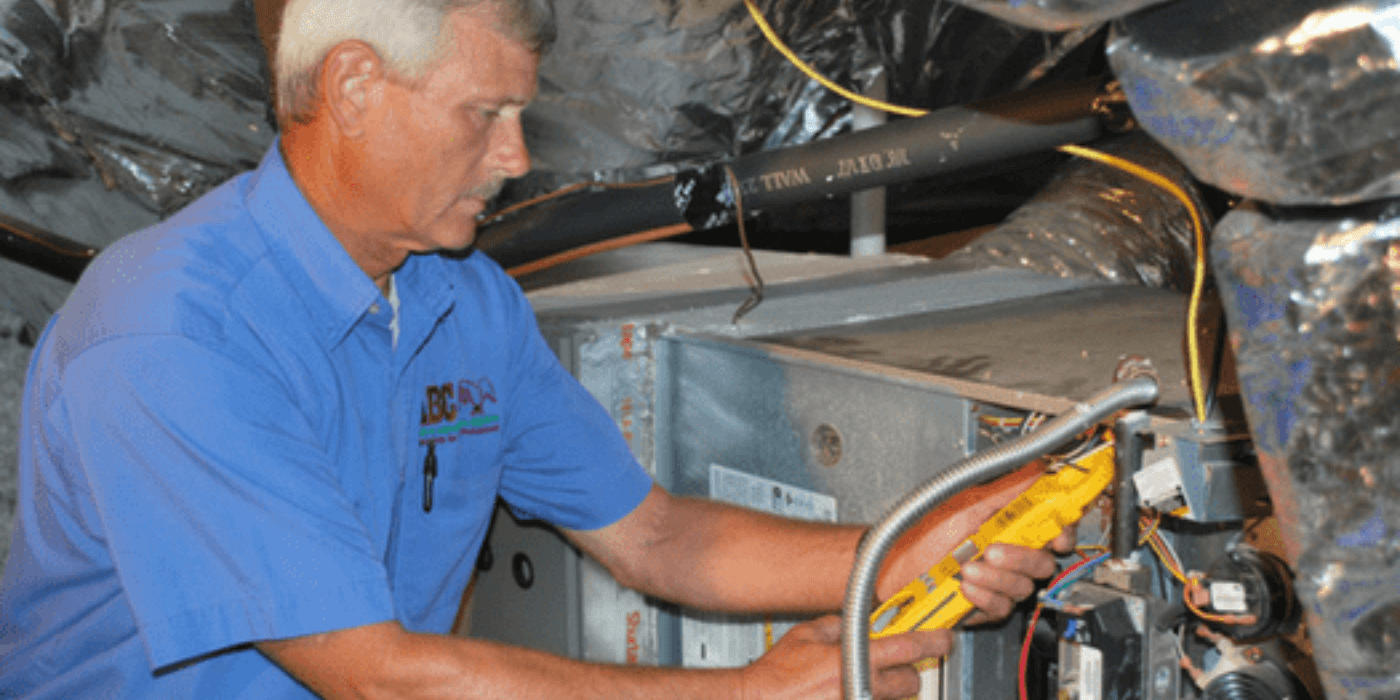 ABC is a full-service heating and cooling provider. Our team is made up of licensed professionals who have the training and experience to make any needed repairs, maintain heating and cooling systems and install any make or model of furnace, heat pump or heater. When you contact us for heating repair in San Antonio, you can feel confident that the specialist who arrives at your home will get the job done correctly and efficiently.
Bexar County homeowners rely on our professionals for:
Central Home Heating Repair
When something goes wrong with your heating system during the colder part of the year, your home can quickly become uncomfortable. Some of the most common heating problems homeowners encounter that we can address include:
cold air coming out of the vents when the heat is on,
higher than average energy bills,
odd smells or sounds coming from the unit,
a malfunctioning thermostat,
a heater that keeps turning on and then shutting off before the end of a cycle,
a pilot light that won't stay lit,
some rooms not getting warm air and
not enough air coming out of vents.
No matter what problem you're experiencing, you can count on our specialists to get your heating system up and running again. You can also rely on our specialists for honest advice on whether it would make more sense to repair your system or replace it. Typically, once repairs start to become more frequent and more expensive, it's time to start thinking about purchasing a new system.
Heating System Replacement & Installation
If you need to invest in a new heating system, ABC can provide you with a free inspection and estimate. When making a recommendation for a new heating and cooling system, we use a whole-house approach to determine which system will work best for you. During this inspection, one of our specialists will ask about your preferences, examine the configuration of your duct system and assess the size of your home to determine which system will be the best fit. Then, we will present you with our recommendations.
Ongoing Maintenance
The best way to extend the life of your system is to sign up for ongoing maintenance. While there are some tasks that homeowners can do themselves to keep their systems in good working condition, such as changing your air filters, most maintenance should be handled by a licensed professional. This is why ABC offers ongoing heating maintenance in San Antonio. With our Advantage Maintenance Plan, we will be able to make sure that everything is working just as it should before temperatures drop. Additionally, our specialists will be able to catch any small repairs before they turn into more costly headaches.
The ABC Process
1. Contact ABC
When you contact us, we will schedule a service call to evaluate the problem. For emergencies, we will send a pro to your home as soon as possible.
2. Get An Estimate
We'll provide you with an estimate for all needed services. Once we get your approval, our pros will get right to work.
3. Perform Services
We will work quickly to perform the desired services. At the end of your service call, we'll update you on what we did and any other needed follow-up.
4. Ongoing Maintenance
Customers who sign up for our Advantage Maintenance Plan receive two tune-ups a year and peace of mind that their system is working as it should.
You can extend the life of your heating system by signing up for regular maintenance. For this reason, ABC is happy to provide our customers in the greater San Antonio area with our Advantage Maintenance Plan (AMP). When you sign up for this program, you can feel confident that your system is working properly before the weather gets colder.
One benefit for AMP customers is that they receive a fall tune-up. During these service calls, your ABC specialist will:
Examine your burners, heat exchanger and vent pipe for any potential issues.
Check your air filter and, if necessary, replace your air filter.
Calibrate your thermostat.
Make sure that your blower motor and ignition system are working properly.
Test your safety controls, in addition to your carbon monoxide and smoke detectors.
Replace the batteries in your thermostat and smoke detectors, when necessary.
Clean your flame sensor.
At the end of your maintenance call, you will be presented with a written report on the health of your system. With this fall tune-up, you can have peace of mind that your heater will be working just as it should. Then, when the temperatures drop, you'll have more free time to go on a bike ride on Medina River Greenway, see what's new at the San Antonio Zoo or simply relax at home.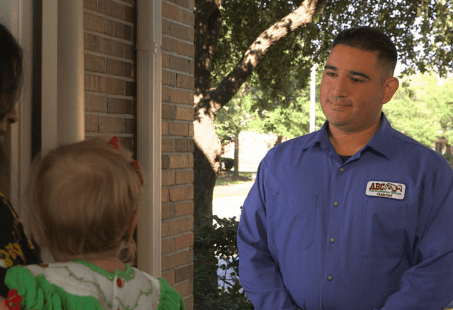 Get Started
We offer a full range of air conditioning & heating services.
In addition to heating repair, San Antonio homeowners have counted on ABC for a number of home services since 1949. Our customers know that whenever an ABC technician arrives at their home, their specialist will be courteous and knowledgeable. We have earned this reputation by having a stringent hiring process in place. All of our technicians are licensed, and are drug tested and background checked. To ensure every specialist who arrives at your home will be fully-equipped for any heating service you need, all specialists go through an in-house training program. Finally, as a family-run business, one of our values is that we always treat our customers' homes as if they were our own.
Frequently Asked Questions
How soon can you get my heater working again?
At ABC, we understand that if something has gone wrong with your heater, you want a professional to come and take care of the problem quickly. We also recognize that some problems just can't wait, which is why we have specialists available 24/7. When you contact us, we will send a licensed professional your way as soon as possible.
Can you give me honest advice on when I should repair or replace my system?
ABC values honesty and transparency. This means you can rely on our technicians to shoot your straight about whether it makes more sense to repair or replace your heater. One factor we will take into consideration is the age of your system. Typically, furnaces last anywhere from 10 to 15 years. If you purchased your heater about that long ago, we may recommend considering a replacement. If you have been staying on top of regular maintenance, your system may last longer.
Some of our customers choose to upgrade their systems early in order to save on their energy bills. Many people are pleasantly surprised to learn that you can save up to 50% on your monthly bills by replacing your heating system with a newer, more energy-efficient version.
Can you install a new heating system in my home?
Absolutely! While our heaters don't work as hard as our air conditioners do here in San Antonio, there comes a time when it makes more sense to replace your system than just keep making repairs. If you're in this situation, contact us and we can schedule a free inspection where you can discuss your options with one of our specialists. You can rely on our specialists to give you the best information to help you decide what system will work best for your home, so you can spend less time shopping for a new system and spend more time doing things you want to do, like going on a jog in McAllister Park or meeting a friend for lunch or coffee.
Get Started
We offer a full range of air conditioning & heating services.
What Our Customers Are Saying
Mitchell Lambert
9/22/2021
"Frank was very professional in manner and dress. He was patient with all my questions and was efficient in performing our AC tune up. He mentioned one item that could be an issue in a few years with no hard sell. I am glad that we chose ABC Home Services and look forward to their next visit."
"Frank was very professional right from the start. He made us feel very comfortable explained everything as he completed. Felt like I didn't need to supervise him, and trusted to do a honest and thorough job. We are very pleased and would use ABC again and recommend you do as well."
Need Heating & Cooling Services For Your Business?
We understand that businesses have different needs than residences. That's why we have specially trained technicians who can service your business.
ABC's Complete List of Home Services in San Antonio
Why deal with multiple service providers when ABC can do it all?