Pest Control in Boerne, TX
The extensive trails, wilderness, and marshland that comprise the Cibolo Nature Center and our surrounding area make this the ideal environment for all kinds of creepy crawlies. When in need of help with ants, mosquitoes, roaches, spiders or another type of pest control, Boerne homeowners turn to the skilled and knowledgeable professionals at ABC Home & Commercial Services. Our pros take a custom approach to pest issues that gets results.
Download Transcript
Effective Pest Control Solutions
ABC has been helping Texas home and business owners deal with pest problems for more than 50 years. Over the course of that time, we've continually refined our approach to pest management to provide our customers with the treatment solutions we believe are the best and most effective.
That means using Integrated Pest Management (IPM) principles. What exactly are those principles?
IPM is a philosophy that believes in developing a comprehensive understanding of pest behavior and biology so that we can utilize environmentally-friendly techniques designed to stop unwanted creatures from entering and thriving on your property.
Specifically, our protocol is to:
Identify where pests live and breed.
Treat problem areas.
Work with homeowners to take preventative steps to stop future invasions.
Typically, these preventative steps involve taking measures such as sealing up entry points, encouraging beneficial animals and insects to take up residence on your property or altering sprinkler systems to prevent water from pooling.
The ABC Process
1. Contact ABC
When you contact us, we will schedule an inspection to get an understanding of the problem. In some cases, we can give you a quote over the phone.
2. Get An Estimate
If you have an inspection, we will send you a custom treatment plan and estimate afterward. Once we get your approval, we will schedule your treatment.
3. Treatment
We will come to your property and treat for pests in common hiding and nesting areas. Over time, you will start seeing less and less pest activity.
4. Prevention
Customers with our ongoing pest management services will receive periodic retreatments to prevent the return of the most common pests in our area.
If we determine that a free inspection needs to be done before we can schedule service, we will set up a time and day for the appointment where you can be present. When the inspector arrives, he or she will:
Search for the source of your infestation
Determine how severe and widespread the problem is
Identify the types of pests you're dealing with
Assess any associated damage
Look for specific property characteristics that might be making you more susceptible to pests
Talk to you about what you've been seeing
Answer any questions you have regarding our philosophy, the techniques we use and so on
Create a customized treatment plan
After your inspection, we will send over a free estimate that details your recommended treatment plan and what to do next. As soon as you approve the estimate, we will be able to put your first service call on the schedule.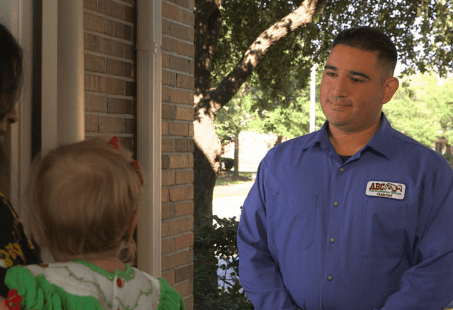 Get Started
We offer a full range of pest control services.
Here's what Boerne residents tell us about why they decide to go with ABC:
We're licensed
We have a generations-long track record of excellent service in Central Texas
Our technicians are friendly and knowledgeable
Homeowners feel safe with our pros because we conduct drug testing and background tests on all employees
Frequently Asked Questions
I need help right now. How soon will ABC be able to come?
We get it. We really do. When you have pests invading your home and property, help can't come too quickly. You want those creatures gone yesterday. That's why ABC always strives to start treatment quickly. However, we also want to make sure that we are providing our customers with the right treatment. In some cases, it may be possible for us to offer you an over-the-phone estimate so that we can schedule your initial treatment right then. However, there are some issues that we will need to see in person beforehand. If you fall into that latter category, we'll schedule the earliest possible time for an inspector to come to your home for a free estimate. Typically, these inspections can be scheduled to occur within just a few business days. After you approve the inspector's recommended treatment plan and estimate, we will be able to set up your initial service call.
Can Boerne residents get a free pest control estimate from ABC?
Absolutely. When you contact us, we will either be able to provide you with an estimate based on the information you provide to us over the phone or ask to set up a no-cost inspection that will also include an estimate. Whichever way it ends up happening, our estimate and recommended treatment plan will be completely free of charge.
Will you be able to get rid of my pests in a single treatment?
While this is possible and does happen sometimes, most often our clients receive more than one treatment to truly eliminate their problem. In fact, ABC now offers year-round pest control services focusing on the most common pests in Boerne because so many clients requested it.
Why does it usually take more than one service call?
There are a number of potential factors. Some pests are more difficult to deal with than others. Bigger infestations tend to take longer to deal with than smaller ones. The time of year can impact the effectiveness of the treatment. Additionally, multiple treatments make it less likely that any eggs or larvae will be missed and develop into adults.
Can ABC service my property if I'm not home?
Yes—to a certain extent. Generally speaking, we prefer for homeowners to be there for the free initial inspection so that we can create a treatment plan that meets your needs. After this initial meeting, you can set up outside-only services that do not require you to be home. If you sign up for this service, you just need to give us instructions on how we can access your yard. Any in-home treatments, however, do require your presence.
Get Started
We offer a full range of pest control services.
Additional Pest Control Service Areas in San Antonio
ABC serves many surrounding communities, including, but not limited to:
What Our Customers Are Saying
"My service technician Isaac is always on time. He texts and/or calls to let me know when he is on the way to my home. During a time were good customer service appears to be a rarity he is Always very polite and well-mannered. He asks me if there are any specific areas he need to pay a little bit more attention to. But this has been my experience with ABC Home & Commercial Services for over the last 3 years. I am very pleased with my services with them! I recommend ABC Home & Commercial Services to anyone looking for a respectful and dependable pest control company!"
Jeffrey Crenshaw
1/25/2021
"After noticing damage to a recently completed stone tree border in my yard I concluded it was most likely a lawn mower, as there was what appeared to be a tire mark near the damage. ABC does my lawn and when I brought it their attention they scheduled Joel to inspect the damage. Joel and I discussed the damage and we both agreed it was more than likely caused by a lawn mower. Joel assured me ABC would take responsibility for the damage. I contacted the contractor that installed the border to provide an estimate but they were slow to respond. ABC informed me they have craftsmen who could repair the border and I agreed to allow them to do the work. I wasn't home when they showed up to do the work but my wife was impressed when they showed up as scheduled, informed her why they were there and notified her when the job was done. They were very courteous. I inspected the work when I got home and was very impressed with the repair. ABC handled the situation from my notification to their repair in a professional manner. I was left thinking I hired the wrong company to do the initial border installation. ABC's quality of work exceeded that of the contractor and their professionalism was top-notch! I recommend ABC to anyone seeking work within the purview of their craftsmen."
Need Pest Control For Your Business?
We understand that businesses have different needs than residences. That's why we have specially trained technicians who can service your business.
ABC's Complete List of Home Services in San Antonio
Why deal with multiple service providers when ABC can do it all?