Lawn Service in Buda, TX
The way your yard looks has a huge impact on how much time you spend in it—and on it. The countless hours you could be spending on lawn upkeep is time you could be spending with your family or on activities you probably enjoy more. ABC Home & Commercial Services provides high-quality, friendly lawn services in Buda so you can conserve that precious free time. Our pros can do anything from regular mowing to remodeling your deck to implementing a new landscaping plan.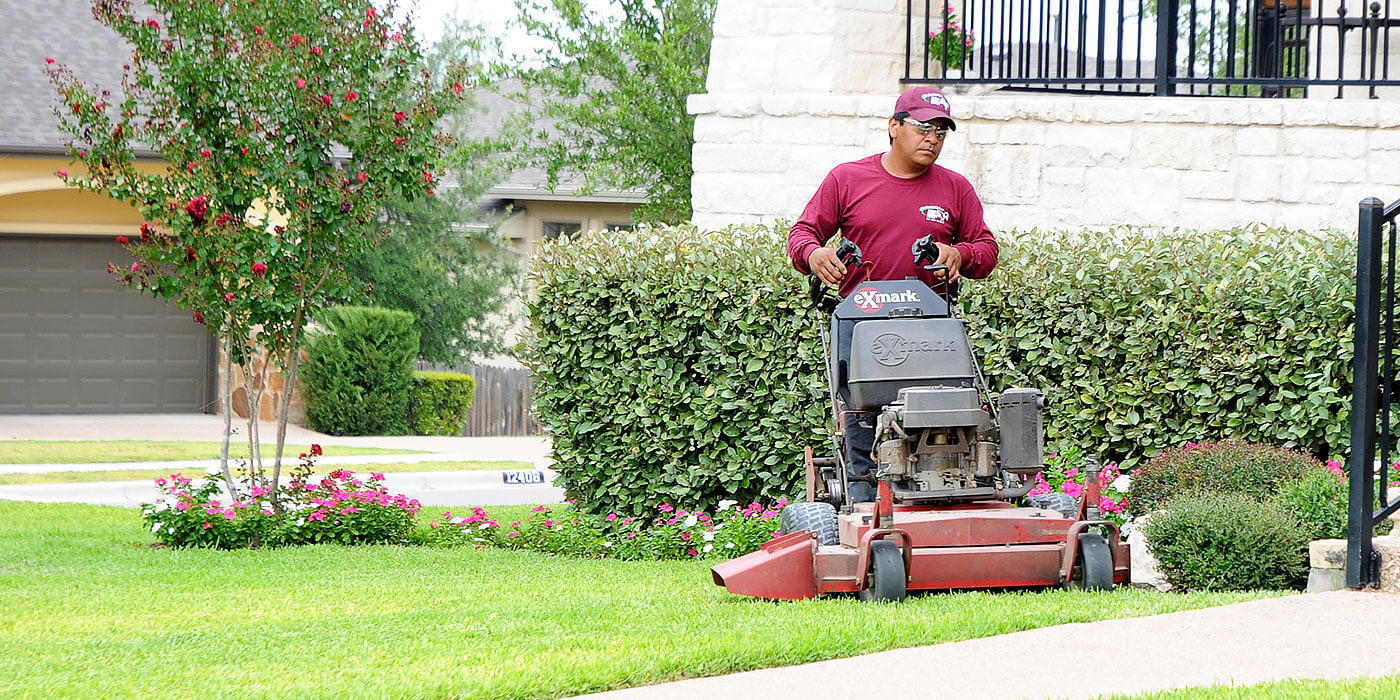 Download Transcript
Comprehensive Lawn & Landscaping Services
When the ABC lawn team comes to your home, they will bring all of the equipment and materials that we need for your project or service call. Our lawn equipment is commercial grade to ensure we are providing consistent, high-quality results. This means you don't have to worry about supplying us with all those lawn tools you may—or may not—have at your disposal.
The ABC Process
1. Contact ABC
We'll learn what you need over the phone or during an in-person meeting at your home. Usually, we can schedule an appointment in a few business days.
2. Get An Estimate
We'll provide you with an estimate based on your goals and our recommended set of services. Once we get your approval, we will get you on the schedule.
3. Service
Our trained specialists perform all agreed-upon services. When we're done, we will clean up any debris to keep your yard neat and looking great.
4. Follow-Up
Depending on what services we performed on your property, we'll provide you with an update or recommend additional follow-up or ongoing services.
Throughout the year, lawns need different kinds of care. For example, we often provide fertilization services in the fall and spring, because that's when your soil needs these nutrients the most. Our fertilization program ensures your plants get exactly what they need, when they need it to keep growing and looking great for the months that follow. During the summer months, many of our customers request that we replace flowers that don't survive with more drought-resistant alternatives.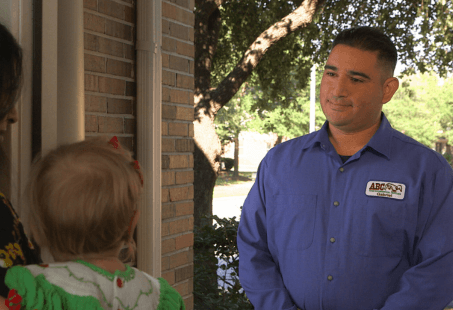 Get Started
We offer a full range of lawn services.
ABC has built a solid reputation for providing high-quality lawn care in Buda. Our customers tell us that they appreciate that we provide a thorough, friendly service. Because of our knowledgable technicians, who perform a wide range of services, we can advise you on anything from whether there are any signs of sprinkler malfunction to letting you know if there are any areas of your lawn that may be suffering due to disease.
We believe in treating your home as if it was our own. We want you to be comfortable with our employees, which is why all ABC team members must undergo a drug test and criminal background check before getting hired. Once hired, employees undergo additional training to ensure that we are providing you with the best service possible.
Frequently Asked Questions
How often will you mow my yard?

Your mowing frequency will depend on how tall you would like your grass to be, the type of grass you have in your yard and how quickly it grows. We may recommend seasonal changes, since some types of grass grow at different rates as temperatures fluctuate. Of course, we will always work within your schedule and budget as we make these adjustments.
Do I need to be home when you are working on my yard?
Usually, you don't need to present for each visit if you have signed up for ongoing lawn services. This means you can come home from work, running errands or your kid's soccer game to a freshly cut and well-maintained lawn. The only thing we request is that you provide us with any information to access your yard, which might include gate codes or any other instructions on how to access the parts of your yard where we will be doing our work. We also request that that kids and pets stay inside while we are working, out of concern for their safety.
What impact do your products have on my kids, pets and the environment?
We believe in treating your property as if it was our own. This means that we will walk you through our processes and allow you to ask any questions regarding the products we use. We hand-pick our products, which are specially formulated for residential use and applied carefully by trained technicians. In addition, we will always use the lowest concentration of chemicals possible when treating your home.
What qualifications do ABC's lawn care experts have?
At ABC, we take our hiring process very seriously. Our lawn services department is made up of ISA-certified arborists, licensed sprinkler repair specialists and lawn crews with years of experience. After getting hired, ABC team members go through an extensive in-house training program to ensure that they are providing our customers with the high-quality service that we are known for.
In addition, you can feel comfortable with our employees on your property, as they have all undergone drug testing and criminal background checks.
Get Started
We offer a full range of lawn services.
Additional Lawn Service Areas in Greater Austin
ABC serves many surrounding communities, including, but not limited to:
Bastrop
Bee Cave
Brushy Creek
Buda
Cedar Park
Dripping Springs
Elgin
Georgetown
Hutto
Kyle
Lago Vista
Lakeway
Leander
Liberty Hill
Lockhart
Manor
Pflugerville
Rollingwood/West Lake Hills
Round Rock
San Marcos
Shady Hollow
Smithville
Spicewood
Sunset Valley
Taylor
Wimberley
What Our Customers Are Saying
"I hired the handyman service from ABC to take care of miscellaneous stuff around my house that has been long overdo! They sent Robert (Bob) who was terrific! He came over with a smiling face on a Monday morning!! I found him very knowledgeable and proficient about his trade. He has a "can do" attitude which was truly appreciated. I would highly recommend him! A really nice guy!"
"First time using ABC and have been very pleased so far. They are very professional, their specialties and technicians are very well informed and trained in their departments. We have spoken to the rodent control and the AC department. Everything was relayed to me about the process and the follow up was very through from start to finish with emails, phone calls and detailed reports. Very impressed with their whole process. Great job ABC!!!"
Need Lawn Services For Your Business?
Our lawn care specialists will ensure you make a good first impression on your customers by keeping your facility's exterior looking nice and tidy.
ABC's Complete List of Home Services in Austin
Why deal with multiple service providers when ABC can do it all?