Lawn Service in Round Rock, TX
Our humid, hot and seemingly never-ending summers, combined with occasional flooding, make keeping a green and healthy lawn here in Central Texas quite a challenge. First, there is regular mowing when you'd rather be relaxing on the weekends, then there is keeping up with your landscaping—and that's just the tip of the iceberg, if you have trees to trim, sprinklers that may need repairs and outdoor lighting you'd like installed. When it comes to lawn service in Round Rock, homeowners prefer to leave the hard work to a company that has built a reputation on delivering high-quality service on a regular basis: ABC Home & Commercial Services.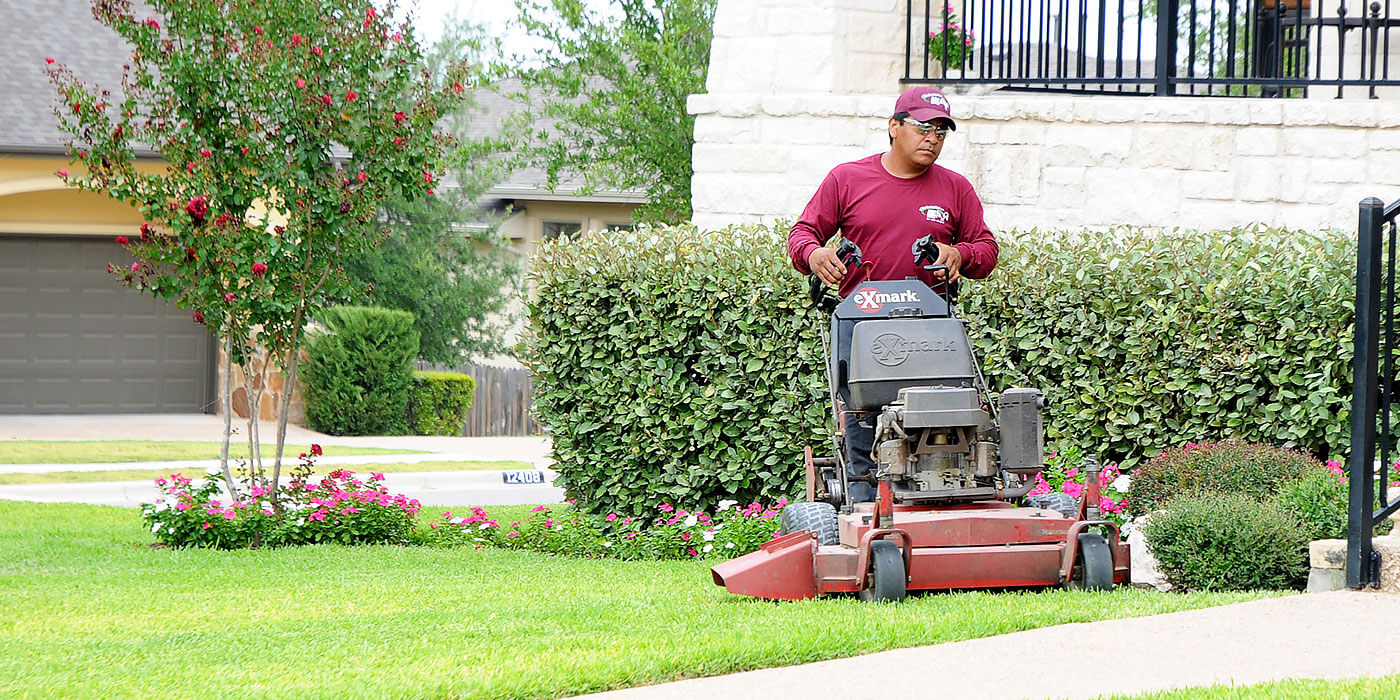 Download Transcript
Comprehensive Lawn & Landscaping Services
At ABC, we use commercial-grade equipment that produces consistent, high-quality results. When our crews arrive on your property, they will bring everything they need to perform the agreed-upon services. Don't worry about dusting off the mower or finding your edger. We've got you covered. With ABC's help, your yard will be the envy of your block and you won't have to lift a finger.
The ABC Process
1. Contact ABC
We'll learn what you need over the phone or during an in-person meeting at your home. Usually, we can schedule an appointment in a few business days.
2. Get An Estimate
We'll provide you with an estimate based on your goals and our recommended set of services. Once we get your approval, we will get you on the schedule.
3. Service
Our trained specialists perform all agreed-upon services. When we're done, we will clean up any debris to keep your yard neat and looking great.
4. Follow-Up
Depending on what services we performed on your property, we'll provide you with an update or recommend additional follow-up or ongoing services.
Like most plants, grass grows at different rates, depending on a variety of factors. We try to take a customized approach to lawn care, based on the type of grass you have in your yard, its condition and whether any soil amendments are impacting your grass growth.
We will provide you with a recommended mowing schedule that takes these factors into account and which also fits your needs and budget. While we find that a majority of our customers prefer having us perform regular mowing services, we can also stop by to deliver more periodic and specialized services, if that's what you prefer.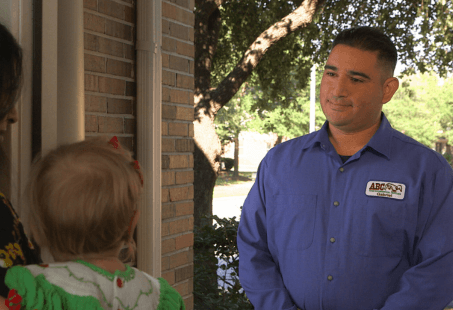 Get Started
We offer a full range of lawn services.
One thing our customers all agree on is that they value quality, reliability and experience. With that in mind, we hire our lawn care technicians to meet a high standard of customer service. We make sure that the technicians who come to your home specialize in operating our commercial-grade equipment, so that the work is done right, every time. In addition, we make sure to show up when we say we will so that there are no surprises. Essentially, when you choose ABC, you are hiring a team of specialists, including arborists, entomologists, licensed pest control pros and landscapers, with decades of combined experience serving Austin-area homeowners.
Frequently Asked Questions
What does ABC do during my initial consultation?
Our initial consultations help our lawn specialists get a better understanding of which lawn services would best fit your needs and budget. In most cases, these assessments are best done in person.
That said, we can give you an estimate for some lawn services over the phone.
ABC's initial consultation allows a trained inspector to ask you a series of questions to get a better idea of your priorities and how we can best help.
After we've had a chance to talk to you in more detail and you have an opportunity to learn more about our services, we will send you a written estimate with recommended services. You can review this no-obligation estimate, designed to protect you from hidden fees or unexpected expenses. Once you give us the thumbs up, we can schedule your first service call.
Do I need to be home when you are working on my lawn?
Our lawn technicians are able to mow and care for your yard and trees while you are away. We just ask that you provide our specialists with any information they might need to safely access your yard. We also ask that you keep your pets and children indoors while we do our work.
How can you address my concerns about the impact of your products on my pets and children, as well as the environment?
At ABC, we strongly value the well-being of your family. This dedication to serving our valued customers is why we carefully select only the products that will have a low impact on your pets, children and surrounding ecosystem.
Feel free to reach out to one of our technicians to address any questions you may have about the products we intend to use in your yard. We are more than happy to address your concerns.
If my yard shows signs of a lawn fungus or another condition, can ABC help?
Identifying lawn diseases is one of our specialties. Our pros can identify and treat your lawn for many types of conditions, including take-all patch, brown patch and iron chlorosis. We are also trained in noting signs of stress on your plants that can stem from months of drought-like conditions or getting either too much or not enough sun. We can offer you with a treatment plan to help your yard recover and keep your plants healthy.
Get Started
We offer a full range of lawn services.
Additional Lawn Service Areas in Greater Austin
ABC serves many surrounding communities, including, but not limited to:
Bastrop
Bee Cave
Brushy Creek
Buda
Cedar Park
Dripping Springs
Elgin
Georgetown
Hutto
Kyle
Lago Vista
Lakeway
Leander
Liberty Hill
Lockhart
Manor
Pflugerville
Rollingwood/West Lake Hills
Round Rock
San Marcos
Shady Hollow
Smithville
Spicewood
Sunset Valley
Taylor
Wimberley
What Our Customers Are Saying
"I hired the handyman service from ABC to take care of miscellaneous stuff around my house that has been long overdo! They sent Robert (Bob) who was terrific! He came over with a smiling face on a Monday morning!! I found him very knowledgeable and proficient about his trade. He has a "can do" attitude which was truly appreciated. I would highly recommend him! A really nice guy!"
"First time using ABC and have been very pleased so far. They are very professional, their specialties and technicians are very well informed and trained in their departments. We have spoken to the rodent control and the AC department. Everything was relayed to me about the process and the follow up was very through from start to finish with emails, phone calls and detailed reports. Very impressed with their whole process. Great job ABC!!!"
Need Lawn Services For Your Business?
Our lawn care specialists will ensure you make a good first impression on your customers by keeping your facility's exterior looking nice and tidy.
ABC's Complete List of Home Services in Austin
Why deal with multiple service providers when ABC can do it all?