Pest Control in Cedar Park, TX
Located in the heart of one of the 10 fastest-growing counties in the entire country, Cedar Park is a great place to raise a family, with trails and the Hill Country right in our backyard and easy access to all that Austin has to offer. Despite all of these advantages, there are some downsides of living in our humid subtropical climate, namely the high likelihood that you could have a problem with roaches, mosquitoes, termites, bed bugs or other common household pests. When it comes to pest control, Cedar Park, TX homeowners rely on ABC Home & Commercial Services to stop an infestation in its tracks and protect you from future unwelcome visitors.
Download Transcript
Effective Pest Control Solutions
ABC has been serving Texas home and business owners for generations, so you can feel confident that we fully understand pest behavior and the science surrounding effective, long-term solutions. As the largest independently-owned and operated pest control company in the state of Texas, ABC adheres to a philosophy embraced by a host of large institutions, including the Environmental Protection Agency.
Integrated Pest Management (IPM) is an approach which seeks to find a balance between effective interventions, low cost, and low impact. These techniques take into account the interplay of all the organisms within an ecosystem and how to prevent pest problems from happening in the first place. A keen understanding of the intersection between biology, entomology, animal behavior, and horticulture, mixed with industry best practices and the latest research on pest behavior, helps us craft practical solutions to even the toughest pest problem.
One of the objectives of IPM is to explore non-chemical techniques before resorting to other types of treatments. Technicians pay special attention to how pests are entering and exiting your property to install protective barriers to keep insects and animals out. Other methods include minimizing moisture sources that could provide pests with a reason to stick around, which could mean adjusting your sprinkler system, adding mosquito dunks to birdbaths and removing excess vegetation where water can collect. Technicians will also assess your property for areas where pests can rest and nest and suggest changes, which could include removing firewood piles, clearing leaves and trimming grass and bushes to make your outdoor spaces less attractive to a number of possible animal and insect invaders.
The ABC Process
1. Contact ABC
When you contact us, we will schedule an inspection to get an understanding of the problem. In some cases, we can give you a quote over the phone.
2. Get An Estimate
If you have an inspection, we will send you a custom treatment plan and estimate afterward. Once we get your approval, we will schedule your treatment.
3. Treatment
We will come to your property and treat for pests in common hiding and nesting areas. Over time, you will start seeing less and less pest activity.
4. Prevention
Customers with our ongoing pest management services will receive periodic retreatments to prevent the return of the most common pests in our area.
ABC provides free inspections with the ultimate goal in mind: to provide you with effective, long-term pest solutions. When an inspector meets you at your home, we have the following objectives in mind:
Learn as much as we can about the problem you are having.
Conduct a preliminary inspection to spot possible entry points in your home and yard.
Determine whether there are any specific characteristics about your property which might make you more vulnerable to infestations.
Assess both the extent and the severity of your pest problem.
Provide you with an opportunity to ask us questions about the usual course of treatment or our techniques.
Document your pest activity and any associated damage.
After this visit, we will send along a free, no-obligation treatment plan for your review. Your first treatment appointment can be rescheduled as soon as you approve our estimate.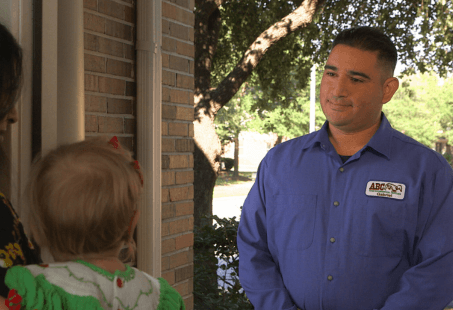 Get Started
We offer a full range of pest control services.
We can tell you what our Cedar Park customers tell us: experience, integrity, and quality. Experience serving Texas home and business owners for over 60 years, with the friendliest staff in the business. Integrity to us means many things, among them that we conduct thorough background checks and drug testing on all employees so that you can feel safe having ABC on your property, even when you aren't there yourself. Lastly, it all comes down to quality. We wouldn't be around if it weren't for our loyal, long-time customers and our hardworking employees.
Frequently Asked Questions
How long will it take someone to get here to start working on my pest problem?
After you discover a rat in your attic or spy a roach running across the floor, chances are that you want the problem taken care of—as quickly as possible. Thankfully, when you reach out to ABC, you won't have to wait long. Depending on the nature of your problem, we may be able to give you an estimate right over the phone so that we can get to work immediately. In some cases, however, we may prefer to send a trained inspector to meet you at your home to get a closer look at the problem you are having to customize your treatment plan to best suit your needs.
When an inspection visit is recommended, we do our very best to get someone out in just a few business days. After that appointment, we will send along a no-obligation estimate for you to look over. Once we get your approval, we can schedule your first service call.
I just want a free estimate. Does ABC do that?
Yes! When you contact us and provide us with information on your pest issue, we will either reach out to schedule a free, follow-up inspection to determine the nature and extent of the problem (which comes with a free estimate), or we'll be able to offer you a free estimate right then and there.
Also, this estimate includes all associated costs, so you never have to worry about hidden charges.
If an ABC technician is coming, do I have to be there?
For those who find it difficult to be at home for our treatment, ABC has just the thing: outside-only services. While this won't help with pests that are already inside, it's a great way to protect your home against the threat of invasion and keep insects out. With this service, all we need to know is how to access your yard. You don't have to be there at all.
If, however, you already have indoor pests, we do ask that you be there for all treatment appointments. Additionally, we highly recommend that new clients be there if we set up a free inspection because talking with you helps our inspector to put together the best possible treatment plan to deal with not just what they see right then, but also what you've noticed that motivated you to reach out to us.
Get Started
We offer a full range of pest control services.
Additional Pest Control Service Areas in Greater Austin
ABC serves many surrounding communities, including, but not limited to:
What Our Customers Are Saying
"I hired the handyman service from ABC to take care of miscellaneous stuff around my house that has been long overdo! They sent Robert (Bob) who was terrific! He came over with a smiling face on a Monday morning!! I found him very knowledgeable and proficient about his trade. He has a "can do" attitude which was truly appreciated. I would highly recommend him! A really nice guy!"
"First time using ABC and have been very pleased so far. They are very professional, their specialties and technicians are very well informed and trained in their departments. We have spoken to the rodent control and the AC department. Everything was relayed to me about the process and the follow up was very through from start to finish with emails, phone calls and detailed reports. Very impressed with their whole process. Great job ABC!!!"
Need Pest Control For Your Business?
We understand that businesses have different needs than residences. That's why we have specially trained technicians who can service your business.
ABC's Complete List of Home Services in Austin
Why deal with multiple service providers when ABC can do it all?