Pest Control in Marble Falls, TX
Being in close proximity to the Highland Lakes, including Lake LBJ and Lake Marble Falls, means residents have plenty of options when it comes to cooling down in the summer. However, these features and our mild climate make our area attractive to a variety of unwanted insects and critters. This is just one reason why pest control in Marble Falls can be such a difficult task for homeowners. If you're having trouble with roaches, ants, spiders, mosquitoes, rodents or any other pest, contact the locally-owned company that has been trusted for generations: ABC Home & Commercial Services. Our deep understanding of integrated pest management informs our proven, effective treatment strategies.
Download Transcript
Effective Pest Control Solutions
ABC's technicians are equipped with a deep understanding of pest behavior so they can implement effective measures to prevent pests from coming onto your property in the first place. ABC has been serving homeowners in Texas for decades, allowing us to grow into the largest independently owned and operated pest control companies in the state. We owe our continued successes to a proven process built around the tenets of Integrated Pest Management (IPM), an approach that is endorsed by many other reputable organizations, including the Environmental Protection Agency.
The principles of IPM place emphasis on effective, low impact and low-cost pest control. This holistic approach incorporates knowledge from entomology, biology, animal behavior and horticulture to enable our technicians to create treatment plans that are both effective and minimize the impact on the environment.
Part of the reason our customers appreciate that we implement the IPM approach is because we are dedicated to using non-chemical interventions whenever possible. Part of our pest inspection process includes determining why these pests have come on to your property and taking steps to make your home and yard less attractive to these pests. We will also inspect your home and yard for areas with excess moisture that could be attracting pests such as mosquitoes, cockroaches and termites. To minimize sources of moisture, we may recommend changing your lawn watering schedule or moving your compost pile further from your home's exterior. Other common recommendations we make include clearing leaves, regularly mowing your lawn, moving firewood and other vegetation away from your home's foundation and trimming back tall bushes. All of these steps are low impact and low-cost ways to make your property less vulnerable to a pest infestation.
The ABC Process
1. Contact ABC
When you contact us, we will schedule an inspection to get an understanding of the problem. In some cases, we can give you a quote over the phone.
2. Get An Estimate
If you have an inspection, we will send you a custom treatment plan and estimate afterward. Once we get your approval, we will schedule your treatment.
3. Treatment
We will come to your property and treat for pests in common hiding and nesting areas. Over time, you will start seeing less and less pest activity.
4. Prevention
Customers with our ongoing pest management services will receive periodic retreatments to prevent the return of the most common pests in our area.
The key to an effective treatment plan is to have interventions that are customized to your property and infestation. The first step in our process is to have an ABC inspector come to your home to get a better understanding of your problem. During this in-person meeting, you can expect your technician to:
Ask you questions about where you've been noticing pest activity
Conduct an inspection of your home to locate pests as well as any entry possible points
Report back on any pest-related damage
Determine if there are any factors that may make your property more susceptible to a pest infestation
If necessary, identify which species of pest is present
Give you an opportunity to ask any questions you may have about the pests or our protocols
At the end of our inspection, we will present you with a treatment plan that is tailored to your property. Once we have received your approval of the estimate, we will schedule your first service call.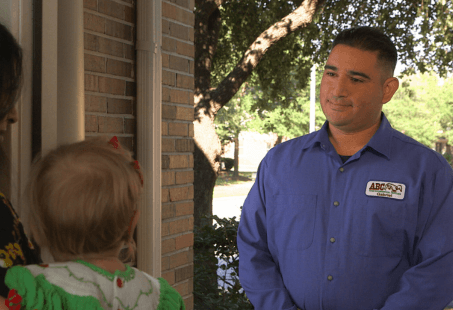 Get Started
We offer a full range of pest control services.
Homeowners across Texas, Oklahoma and Florida have been turning to ABC for pest control services for over 60 years. As a family-run business, one of ABC's core values is that we will always treat your home as if it was our own. So, our customers have peace of mind that their property and belongings with be treated with the utmost care.
In addition, our customers feel comfortable with having ABC technicians in their home, as all job candidates are drug tested and background checked prior to joining our team. ​Before performing service calls, all ABC technicians go through an extensive in-house training program to learn everything they need to know about pest control so that our customers can expect high-quality customer service.
Frequently Asked Questions
How long will I need to wait for my service call?
Whether you've found a cockroach in your kitchen, a rat in your shed or fire ants in your yard, you want a professional to treat your home as quickly as possible. When you contact us, we will schedule an inspection of your property at the earliest opportunity. Sometimes, we can even give you an estimate for our services over the phone.
We usually recommend scheduling an in-person visit with one of our certified technicians to examine the pest problem first-hand. Depending on your availability, we can normally get this appointment scheduled within just a few business days. By inspecting your home and yard, your technician will be able to create a treatment plan that is customized to your specific situation. Once you have reviewed our complimentary estimate and given us the green light to move forward, we will put your first service call on the calendar.
What's the usual duration for your pest control treatments?
Every pest problem is different, and all of our treatment plans are tailored to treat the specific problem you are having. Because of this, there is no one answer to this question. While we understand that many homeowners would like to have their pest problem resolved in just one or two visits, we tell our customers that most issues require multiple treatment calls to ensure the pests are gone for good. Additionally, some pests are seasonal, so we may recommend ongoing treatments to prevent a reinfestation down the line.
When determining how many service calls your property will require, we will take into account the time of year the problem is taking place, the type of pest on your property and the severity and extent of the infestation. To prevent pest problems year-round, ABC offers recurring preventative services to control the "big four" most common pests in Marble Falls and the surrounding areas: roaches, mosquitoes, spiders and scorpions.
Will I need to be home during an ABC treatment?
We understand that dealing with a pest problem can easily disrupt your normal routine. In addition, we recognize that being home for each visit can be a challenge. That is why ABC offers "outside only" services. Customers who sign up for these services receive regular treatments to the exterior of their home and yard. We ask these customers to provide our technicians with any needed instructions to gain access to your property, such as gate codes.
How does ABC handle honey bees?
ABC recognizes the importance of bees, which is why our technicians make every effort not to remove or kill bees. If you believe you have bees in your home or yard, we can provide you with the names and numbers of local beekeepers who can humanely remove and relocate these hive.
Get Started
We offer a full range of pest control services.
Additional Pest Control Service Areas in Greater Austin
ABC serves many surrounding communities, including, but not limited to:
What Our Customers Are Saying
"I hired the handyman service from ABC to take care of miscellaneous stuff around my house that has been long overdo! They sent Robert (Bob) who was terrific! He came over with a smiling face on a Monday morning!! I found him very knowledgeable and proficient about his trade. He has a "can do" attitude which was truly appreciated. I would highly recommend him! A really nice guy!"
"First time using ABC and have been very pleased so far. They are very professional, their specialties and technicians are very well informed and trained in their departments. We have spoken to the rodent control and the AC department. Everything was relayed to me about the process and the follow up was very through from start to finish with emails, phone calls and detailed reports. Very impressed with their whole process. Great job ABC!!!"
Need Pest Control For Your Business?
We understand that businesses have different needs than residences. That's why we have specially trained technicians who can service your business.
ABC's Complete List of Home Services in Austin
Why deal with multiple service providers when ABC can do it all?